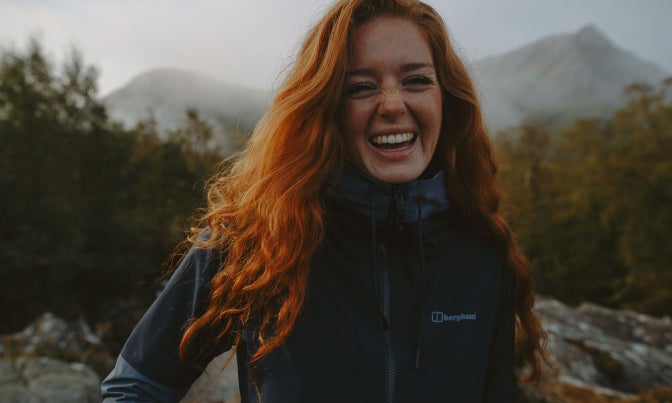 Can you wash a waterproof jacket?
Washing waterproof jackets or clothing and treating them to re-waterproof the fabric can be a daunting challenge to take on. At Berghaus we often get asked 'can you wash waterproof clothing?' or 'how do you wash a waterproof jacket?' the answer to those questions are 'of course you can!' and 'it's very easy!'

So long as you stick to a few basic rules washing and re-treating waterproof garments, including GORE-TEX®, is a relatively simple and safe thing to do. So to help you out we've put together a nice simple step by step at the bottom of this page showing you how to clean and re-waterproof your jacket.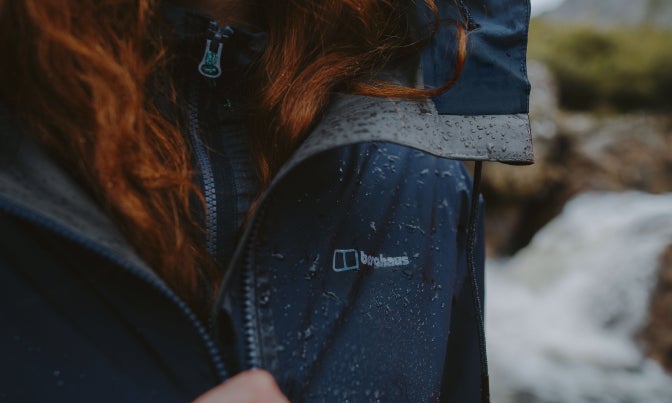 Why should you wash a waterproof jacket?
Excellent question. For some people, the idea of washing a waterproof jacket is simply unheard of; washing something which is waterproof – surely not?
How to wash your waterproof jacket and trousers
For any adventure into the great outdoors, the best way to stay protected is by being prepared with the most appropriate type of clothing for the conditions outside.
For any experienced mountaineer, you know you can never go wrong with Men's Waterproof Jackets and Women's Waterproof Jackets from Berghaus.
Whether you're new to the world of outdoor adventures or you're a seasoned hiker, there will always come a time when washing your Gore-Tex jacket or favourite waterproof hiking trousers becomes essential. Washing waterproof jackets and treating waterproof clothing may sound complicated, but don't worry - we've got you covered.
From learning how you can wash waterproof jackets to knowing which waterproof clothing wash to use, this simple how-to guide will cover everything you need to know.

What you'll need:
· A waterproof washing liquid for down or technical outerwear – or a common non-biological laundry detergent
· A washing machine
· A tumble dryer
Our step-by-step guide to washing waterproof clothes like a pro
Procedure
#1 Remove all dirt
The first step to cleaning your waterproof clothing is to brush off any dirt. Do up any zips or velcro and close any flaps.
#2 Clean your washing machine
Before washing your garments, clean your washing machine of any soap build-up to minimise the risks of ruining your clothes.
#3 Wash according to labels
Follow the instructions on the clothing label and choose a suitable program to wash your waterproof clothes. Place your item in the washing machine (ideally 1 item per wash) and use a standard non-biological soap or a waterproof washing liquid to add extra protection. If you cannot read the label, you should wash your clothes on a gentle cycle and a slow spin - around 30 degrees is optimal.
#4 Give your clothes an extra spin
After the washing cycle has finished, run multiple spin cycles - each time incrementally increasing the spin speed, to remove excess water.
#5 Tumble dry on low heat
Fully dry the garment at a low temperature in the tumble dryer
How to re-waterproof jackets and trousers after you've cleaned them:
If your garments are still new, a simple wash will suffice. But, if you've been sporting your waterproof garments for a long time, you'll need to improve the DWR (Durable Waterproof Repellency).
To do so, follow the instructions above. However, make sure you use waterproof washing liquid instead of regular non-biological soap.
Dry your waterproof garment at a low temperature using a tumble dryer. This activates the DWR coated microfibers, thus repelling water.
Your waterproof jacket is now clean!
Congratulations, you now know how to wash your waterproof jacket! Before leaving for your next adventure, make sure you have all the essentials. Browse our men's and women's collections and add a new piece of technical gear to your hiking equipment.
Happy adventures!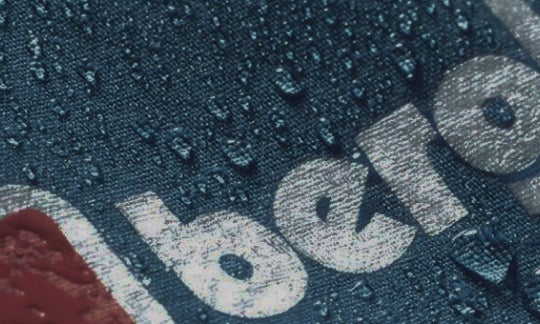 Added to your basket
Sorry, there seems to have been an error. Please try again.
Subtotal: ( items in your basket)
Added to your basket
Sorry, there seems to have been an error. Please try again.
Subtotal: ( items in your basket)
Quick Buy
Sorry, there seems to have been an error. Please try again.