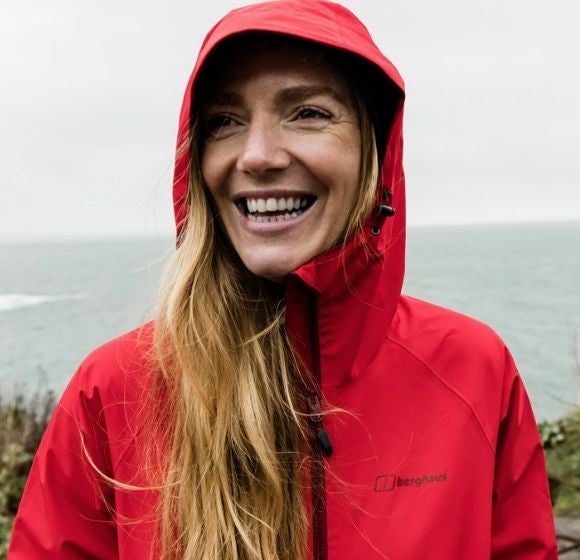 Product Lifetime Guarantee
We build all Berghaus gear to last and we're committed to keeping your kit going over land not into it, so we offer a free repairs service, Repairhaus, through which we'll fix-up your gear if we possibly can.
In addition to free repairs we provide a product guarantee for every single item's reasonable lifetime, at no additional cost.
We'll review each product in line with the guarantee and if we find a genuine fault or defect in your item that shouldn't be there based on normal use, and we can't repair it, then we'll replace it for free – if you've got your proof of purchase. If not, we will sort you out with a handy discount on more Berghaus kit to help you get back into the outdoors.
The Product Lifetime Guarantee does not apply for any specific set of time as each of our products have different expected product lifetimes, for example a highly technical insulated jacket will have a different expected product lifetime to a T-shirt, and other factors are taken into consideration too. So, if that 20-year-old jacket of yours has seen more summits than hot dinners, then it might be time to buy a new one! In any case, we'll review each case and will let you know if we can fix or replace it.

To help give you an idea of our expected product lifetimes we've built a guidance matrix...
Product Lifetime

N.B If no proof of purchase available product lifetime will be measured on date of manufacture.

Up to 2 years

(Subject to usage)

Up to 4 years

(Subject to usage)

Up to 6 years

(Subject to usage)

Tops - Tshirts & Base Layers

X

Bottoms - Shorts & Trousers

X

Mid layers - Fleece, Gilet & Hoodies

X

Footwear - Shoes & Boots

X

Bags - Small sac & Holdalls

X

Bags - Mid/Large sacs

X

X

Accessories & Sleeping bags

X

X

Jackets - Insulated

X

X

Jackets - Waterproof,Gore-Tex

X

X

X


How to claim
This matrix is for guidance purposes only because we will assess each individual item and the applicability of the Product Lifetime Guarantee based on different factors such as age, condition and usage. To find out more about whether a repair or replacement is possible, visit Repairhaus and fill in the enquiry form that will go straight to our in-house experts who will assess your claim using the info you provide.
Alternatively, you can contact the store or website that you bought the product from. You will need to have your proof of purchase ready and your retailer will then work with us on your claim. Product Lifetime Guarantee – FAQs?
What is covered in the guarantee?
All Berghaus products are covered under our Product Lifetime Guarantee and we are aware that from time to time faults can appear. Should a product fail due to manufacturing defects in workmanship and/or materials, or a genuine fault, we will repair the item free of charge or replace at our discretion. If it's no longer available, we'll replace with an alternative from our current range that's as close to it as possible.
What is not covered with the guarantee?
Our guarantee covers genuine manufacturing faults or defects only and does not cover normal wear and tear. To help clarify what this means, here's a few pointers of things that wouldn't be covered:
• Adhesive/glue/bonding. Adhesives will naturally dry and break down over time because of age, particularly with heavy use and poor after care. This issue on items over 10 years old would not be considered.
• Wear and tear. Anything that's reaching or has reached the end of its serviceable life. For example, if a zip breaks on a heavily used item, it's usually down to wear and tear rather than a fault. If we can repair issues related to wear and tear then we will, and we'll do it for free, but a replacement will be off the cards and it'll likely be time to retire your old faithful piece of kit.
• Accidental damage. Whether it's caused by you or someone else, like a baggage handler –this includes rips, cuts, scuffs, tears, abrasions, odours and stains aren't covered.
• Poor aftercare. Your product should be cared for and properly maintained. If, for example, your boots become dry and brittle because they haven't been cleaned or dried as advised, then any cracks or splits would be due to poor aftercare, rather than being a manufacturer's fault.
• Leaking waterproofs. Waterproofs that have reached or are close to the end of their serviceable life through use.
• Pockets on waterproof garments. These are very difficult to guarantee as waterproof and there are circumstances that would give the impression that there's a leak when in fact there isn't (for example, opening and closing pockets in the rain or putting wet hands in to pockets). Even when pockets are protected by a flap, rain can still sneak in behind the flap or along the pocket seams - but rest assured that it won't pass through to the inside of the garment. We recommend storing any items that need to stay dry in a waterproof case/bag or in an internal pocket.
• Damage caused by misuse or alteration of the product.
• Any consequential loss or damage resulting from a fault.
• Second hand items. Unfortunately, our guarantee covers only the original owner but that shouldn't stop you having fun in some great Berghaus stuff.
Q. How long are products covered for?
We go that bit further at Berghaus. We don't just guarantee our products for a set time frame. We like to be more flexible because the lifespan of our products varies depending on a few factors. For example, a heavily used or poorly maintained item will probably have a shorter life than an averagely used or well-looked after item. That's why our team of experts consider each case individually. If we've missed something that applies to your product, don't worry - this is just a guide to help you, it's not an exhaustive list. Remember, our team of experts consider every case individually. So, get in touch with us or whoever you bought it from, and we'll take a look.