Nature can be tough on even the toughest clothing. So when the elements do their worst, we bring out our best — the Repairhaus team.
Our Sunderland-based crew know your gear better than you do — hard to believe, we know — and are on hand to stitch every rip and replace every zip. For free. Good for you. Great for the planet.

Free Repairs
Our gear repair service is free. We'll ask you pick up the cost of sending your gear into us but the fix-up is on us.

Fixing All The Gear We Can
No matter how worn or weathered your kit is, we'll repair it for free, if we possibly can, as many times as you need us to.

Fast Turnaround
Every repair is unique. Some are quick fixes. Others need more attention. But we aim to have your item back with you within 21 days of receiving it.

Good for the Planet
Repair don't replace and give more life to your gear and the outdoors. Plus, it's good for the wallet too.
Getting the Job Done
We'll always do our best to repair your worn and weathered Berghaus items, no matter how many times they need it. For free. Here's how we do it.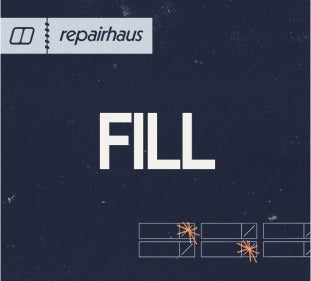 Step 1
Fill in the Form
Give us as much detail as you can about the gear that needs repairing, and the repair you need done. We'll take a look and let you know if we can help.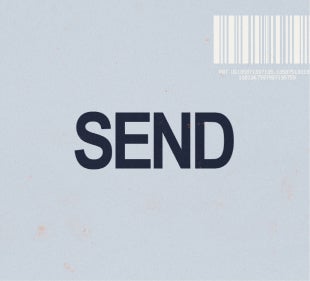 Step 2
Send it In
If it's a go-er, we'll ask you to send in your item into Berghaus HQ. Then we'll assess the damage and pass it onto the team.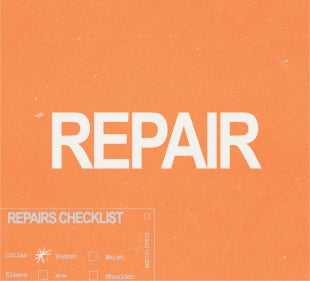 Step 3
The Repairs Team
Our team will get to work on your repair. They are masters of their craft and will keep you in the loop at every stage of your item's journey — just in case you miss it a bit too much.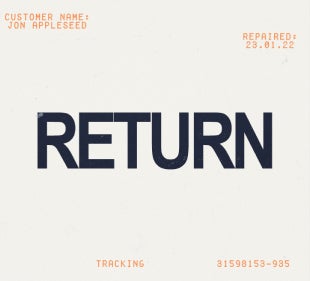 Step 4
Get Back Out There
Every repair is different, but we'll do our best to get your repaired gear back to you within 21 days of its arrival.
And if we can't fix it?
Some adventures are too big even for our repairs team. If they feel your item may have come to the end of its life, we have two options. The first, a replacement if your product is within guarantee. If it's not, with your permission, we'll upcycle it and give you 30% off something new.
Behind the Repairs: The Repairhaus Process
Get to know the place, people and process that ensure your item is returned to near-mint condition, ready to battle the elements once more.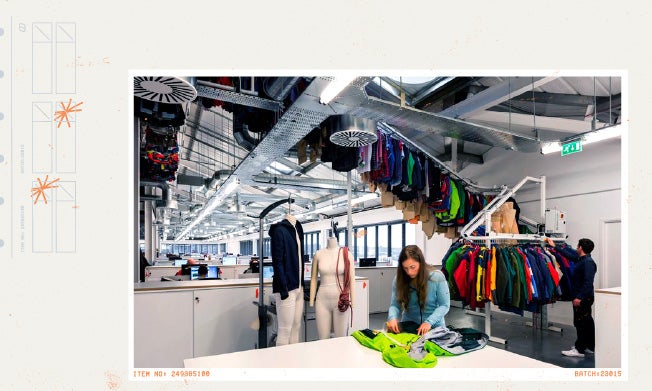 The Start, Sunderland
Repairs have been at the heart of our brand since we started in 1966. From day one, we've engineered durable, long-lasting gear designed to endure Mother Nature's worst. Maybe it's our Northern roots, but we've always believed that good-quality gear should be repaired, not replaced — keeping it going over land not into it. That's why, way back in the 60s, we had a repair room above our first shop. Today, the Repairhaus team are at the heart of our studio in Sunderland. Sure, there are some new faces and the helping hand of advancing technology, but the ethos is the same — keep your gear going the distance.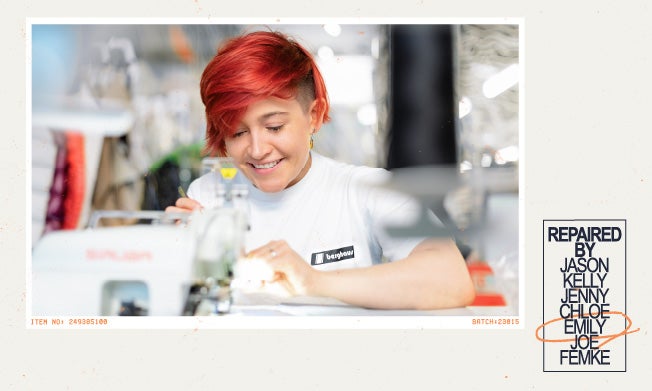 In Great Hands
It's good to put a face to your fix. Our dedicated team have years of experience between them and will do their best to get you back out there in the elements.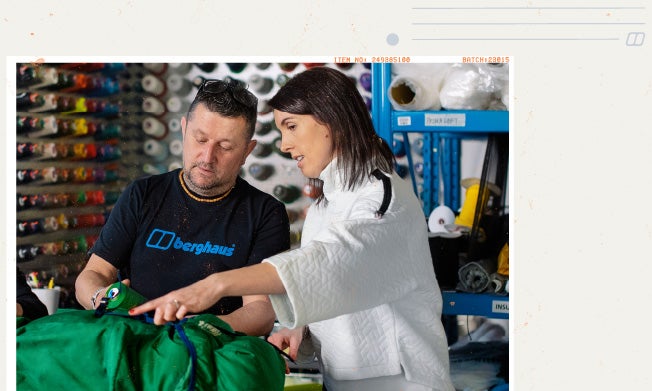 The Plan
Pitching in with their wide range of individual specialties, from renewing zips to re-bonding sole units, our team work together to come up with the best solution to fix your item. Then they get stuck in. What they learn along the way trickles back into our manufacturing process, to ensure that our designs go from strength to strength. So no matter what mother nature throws at you, you feel ready to take it on.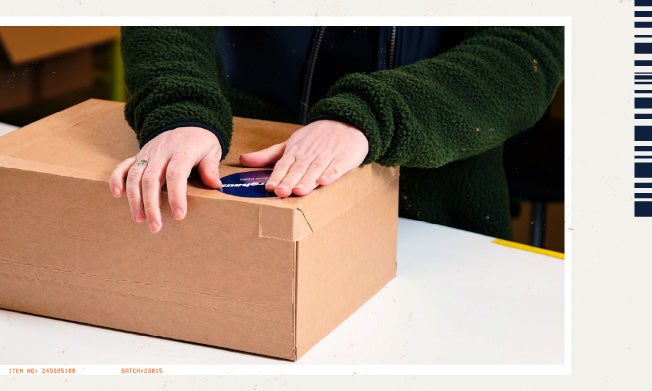 Job's a Good'un.
When the repair is done, we'll package your item up and send it back to you. Dead easy.
Frequently Asked Questions
Got an unanswered question? Find what you need below.
Service
Yes, our fixes are all 100% free, but you will be expected to send your kit by recorded delivery at your own cost. If, however, you bought your product from Berghaus.com and it's less than six months old, we'll cover your postage cost.
Fill in the request form and we'll email you with all the info you need; including an assessment of whether your product is repairable, where to send it, what to include, how long it will take and exactly what we'll do. If we can't repair it, we'll either replace it or give you money off a new piece of Berghaus to use on Berghaus.com. Just keep an eye on your inbox.
Every repair is unique, some quick and some (our favourites) are a bit fiddlier. But we aim to have every repair returned within 21 working days of receiving it. Don't worry, we'll keep you in the loop and drop you an email with any updates.
Every repair is unique, some quick and some (our favourites) are a bit fiddlier. But we aim to have every repair returned within 21 working days of receiving it. Don't worry, we'll keep you in the loop and drop you an email with any updates.
Yes. Well, most of them do, but if you've really done a number on your Berghaus kit we might have to call in our specialist partners, Lancashire Sports Repairs and Scottish Mountain Gear. But don't worry, we'll inspect it before we send it back to you, making sure every fix is Berghaus quality.
Data from internal tools shows us that, on average, repairing rather than buying a new like-for-like product generates 50% less kg of CO2e which is why, wherever possible, we help to extend the life of Berghaus products through the Repairhaus service.
Repairs
Good question. We love a good challenge, and a good fix. And we'll always do our best to repair your kit, whatever the state of it. Some of our more routine repairs include renewing zips, patching small tears or holes, minor stitching and re-taping jobs or re-bonding sole units. So, whether it's a simple patch job, or some heavy welding work, get in touch, with as much info as possible and we'll see what we can do.
The general rule of thumb is that if your kit is currently available on our website, we can typically repair it. There are some items, tents specifically, that we won't be able to fix. These are only available from specific stockists, who have processes in place to manage these bigger, bulky items. So although we won't be able to fix them, check with your point of purchase, it might still be under guarantee in which case, you'll be covered.
Every bit of kit we make has a guaranteed lifespan; an expected amount of time your gear will last (years normally). If your kit still falls within its expected product lifespan and can't be repaired, we will replace it with the same piece or the nearest equivalent, if you have proof of purchase. If your product is outside of its guaranteed lifespan, and you can't find the proof of purchase, we'll give you 30% off your next bit of Berghaus kit and use your old kit to fix others, with your permission of course. Full details on our guaranteed product lifespan can be found here.
Even with our best efforts, some kit is beyond the scope of repair. The bits we don't fix are stain removals, reproofing, dying materials, cigarette or other burns and any damage that can come from improper storage or care – that stuff is usually pretty irreversible. We always assess each case before you send in your kit, so get in touch and we'll let you know what we can do.
Guarantees and Terms
We can't always guarantee a like for like match with new fabrics and colours, especially if your kit's been beaten about the bush a fair bit. But we're inventive, and we've got a good eye; so, we'll always do our best to get a good colour match.
Our guaranteed product lifespans aren't set in stone, because we know it depends on a few factors, like how often you use it. But broadly speaking:
· Base layers, legwear, mid layers, day packs and accessories = up to 2 years
· Down jackets, walking boots, mid to large sized backpacks and sleeping bags = up to 4 years
· Waterproof jackets and Gore-Tex pieces = up to 6 years
You can see the full list here.
The original receipt, or a copy of your bank statement with the transaction. If you've checked every cupboard and pocket and still can't find it, we will assess your kit, including when we first manufactured it, and determine what repair or discount you might be eligible for.