Camping in a bivvy, watching the stars dance and the night go by, can be one of the most memorable nights of your life. Read this first and make sure it's for all the right reasons…
By Phoebe Smith
1. You will get wet. Obviously when choosing your bivvy bag you should look for one that is waterproof and – equally as important – breathable, but no matter how good it is, the reality is that even if it doesn't rain you will get wet. That's because as you sleep cosy in your sleeping bag you will get warm and, as that warm air hits the cold of your bivvy bag, condensation is formed. It's certainly survivable on a one night trip, but it's worth bearing in mind when choosing your sleeping bag – remember that unless it's hydrophobic, down will not work if it gets wet…
2. Your other kit will get wet. A bivvy is literally a cover for your sleeping bag so there's no room inside it for your rucksack, your boots or even your breakfast! Whether due to rain or morning dew, everything will get wet (see above), so make sure you take a waterproof dry bag (or at the cheaper end of the scale – a bin bag) so that you can wake up to dry gear for your walk out/journey back to work.
3. Keep warm. Unlike in a tent, where a ground sheet and walls will keep you somewhat protected from the elements, in a bivvy you are well and truly exposed. So it's especially important to take a good sleeping mat – which keeps you insulated from the cold ground (depending on size, this is placed either inside or outside the bivvy bag), a good sleeping bag (look for one with a high comfort rating and consider a men or women's specific fit) and warm clothes (think layers – breathable fabrics that move sweat away from your body, with a fleece over the top). Also remember to take food with you – and lots of it – never underestimate the joy that can come from a strategically packed extra chocolate bar.
4. Local wildlife really isn't interested in you. One of the most common worries people seem to have in the UK is that foxes and badgers are for some reason obsessed with their exposed appendages. Yes, you might see a curious bunny, true, sleep in the wrong field and you may even be licked by a cow, but as for wildlife coming too close? Don't worry, animals are way more scared of you than you are of them, just remember to pack away all your food before you go to bed and of course you can always cover your face with the hood of your bivvy. However when it comes to midges, they are very interested in you…
5. Watch the weather. When it comes to a bivvy two statements ring true: it's the best of times / it's the worst of times. Unless you have a penchant for the latter, then do your homework before you head out. Watch the weather forecast to see what it's like where you are going. If rain is forecast either leave it for another time or take a tent. If it's forecast to be clear, however, then go for it. There are few experiences that can rival lying in a bivvy gazing up at the stars or being woken from your dream by the rays of the rising sun…sleep tight!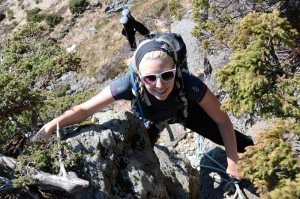 Phoebe Smith is an award-winning travel editor, writer and author of several books including Extreme Sleeps: Adventures of a Wild Camper and Wilderness Weekends: Wild Adventures in Britain's Rugged Corners. She is as passionate about the outdoors as she is about travel and has written about both extensively in a range of magazines and newspapers in the UK, USA, Canada and Australia and has appeared on radio and TV talking wild camping, travel and women in the outdoors. Follow her on Twitter @PhoebeRSmith.