My non-running friends often ask me about the difference between trail running and fell running (or hill running in Scotland).
The obvious answer is that the terrain is different – but there's a lot more to it which I would like to go into here…
Terrain
In trail running it is often on paths or tracks whereas in fell running it can be much rougher and pathless, and includes bogs, heather, scree, easy scrambles etc. You could argue that there are some fells races where the underfoot conditions are easier than some trail races.
(Obviously, the whole situation is different in mainland Europe and the USA where they do not have terrain that corresponds to the fell we have in the UK).
Set route or freedom
However, I think there is a bigger, much more fundamental difference between the two.
In trail races there is a set route or trail that you must follow whereas in fell races, once you are on the fell itself (i.e. above the final intake wall), you have the freedom to go your own route between the checkpoints.
Thus there is a completely different mind-set between the prescribed route in a trail race and finding your own route in a fell race.
Some people like the set route; they like running without thinking about which way to go and trail running has encouraged these people out running, which is brilliant. I hate being told what to do (ask my family) and cannot cope with being told which way to go.
I have run in a few trail races. I remember on one race the set route was along a big track with a bend in it. I could see the fastest route was to cut the corner and go straight across the fell. Instinctively I started to go that way but then I realised that it was not allowed, it would be cheating to do so and unfair if I went that way and every else followed the prescribed route. So I went back on the track and reluctantly followed the correct route.
On fell races, most people blindly follow the person in front. But I will often deliberately go a different route between checkpoints. Usually it's slower but it is fun to try.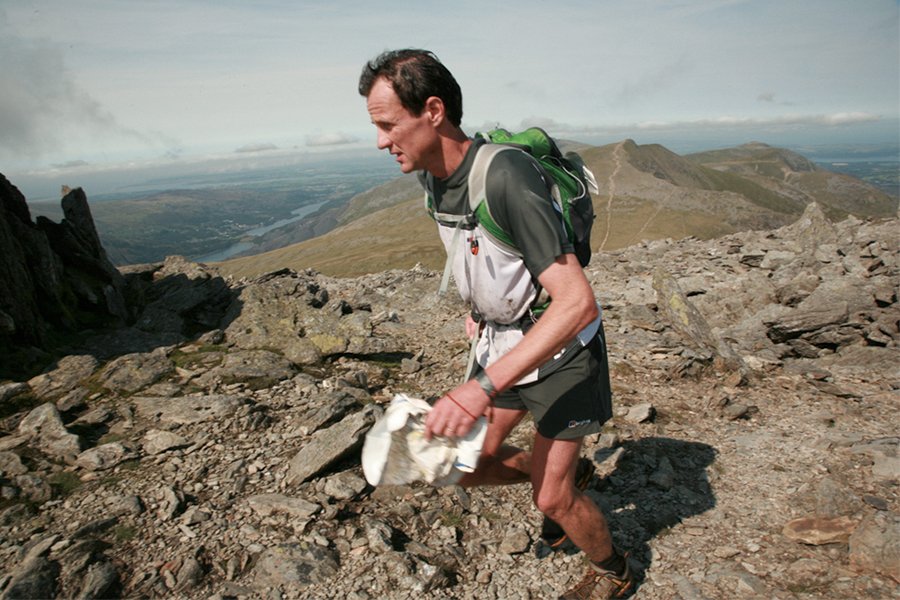 Popularity and price
It's probably also worth talking about the price difference and organisation of trail and fell races. Fell races are usually put on entirely by volunteers and are quite cheap to enter (often less than £10) whereas trail races are often professionally organised and can be considerably more expensive (£20 plus). It is also worth pointing out that they have different safety kit requirements that need checking before running.
Consider the two races that took place on 22 May in the Lake District. The trail race is 10km long and is part of the Keswick Mountain Festival. The race cost £27.50 (which included a ferry trip, t-shirt, concert ticket etc.) and over 500 people ran it. It is along a marked route along good undulating paths.
However the fell race starts only 10km south of Keswick, it is the Glaramara fell race organised by Andrew 'Scoffer' Schofield and other members of Borrowdale Fell Runners. This is an 8km route with 700m of climb. There is a single checkpoint at the top of Glaramara and after the initial 1km along a flagged route through some fields a variety of routes are taken, particularly on the way down.
The race cost £3 and in the last couple of years there have been about 30 runners. This fell race is everything I want from a race: cheap, low key and relaxed, but a tough hard race with a brilliant descent.
The descent has everything, route choice, bog, rocks, scree and grass – all at speed, a real adrenaline buzz. In comparison, I think the trail race is boring and over-priced and I do not need another race t-shirt!! But obviously, I am in a minority (a lot of people come back every year so Mountain Run and Keswick Mountain Festival must be doing a good job with the trail race, and it is great that lots of people are out there enjoying running). I am not and never will be a trail runner.
Even if I might still occasionally do a trail race (and amazingly even a very occasional road race) my heart is being out on the fells choosing my own route over the roughest, toughest, terrain I can find.
Steve Birkinshaw