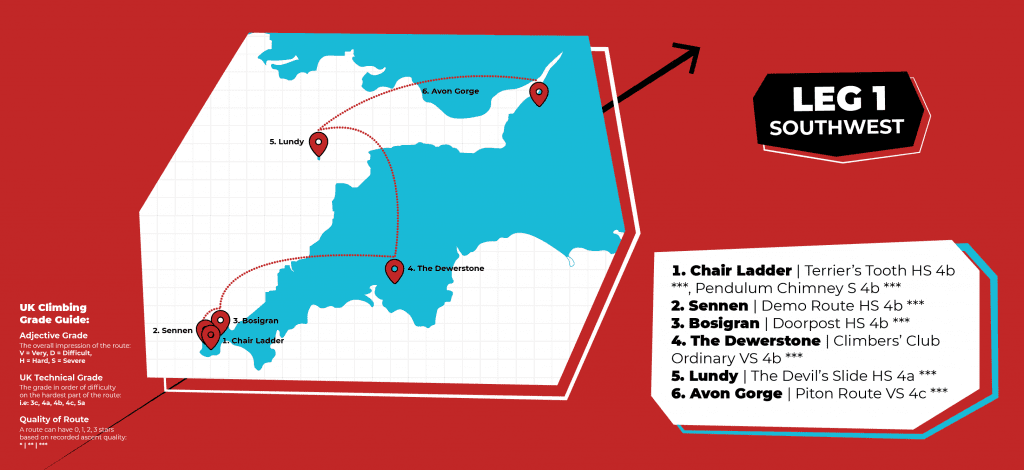 Starting a big trip is always hard. You've got everything ahead of you; so many logistics to think about, so many unknowns, so much to do! I was trying my best not to feel too overwhelmed as Marc and I left Kendal on our newly loaded up touring bikes and headed to Oxenholme station. I felt wobbly at best on mine, never having ridden with panniers on before, and this was not helping my nerves. What if I just didn't get the hang of it and crashed every 100 feet? What if I had hideously underestimated how hard it would be to ride with all this kit? What if this was all just a really bad idea?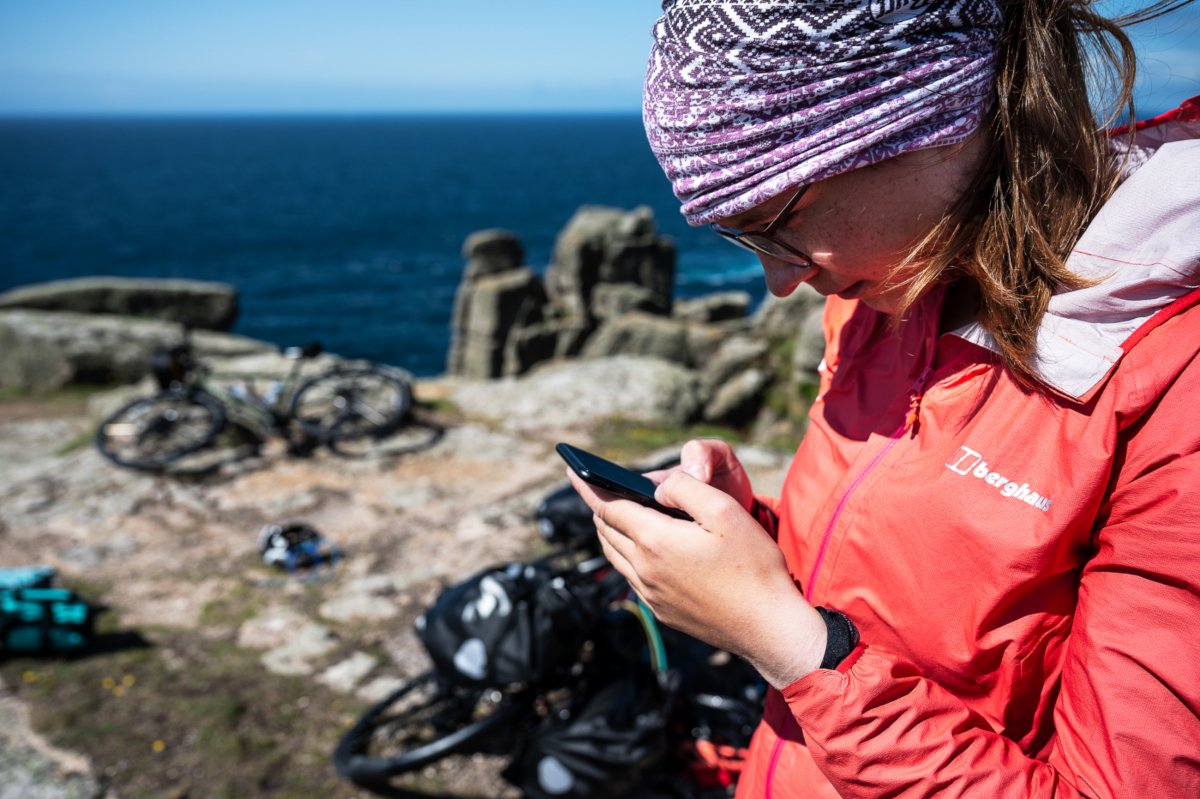 I had to push my doubts to the back of my mind before we got on the train. They didn't matter much, as now we had made all the arrangements for our trip we were starting regardless. One stressful day of travel later and we were finally in Penzance – the start line! By 9am on the 31st July we were packed up and ready to go, and after a brief tussle with my new bike Sat Nav whilst trying to escape the town, we were finally on the road and heading towards our first few climbs.
The first ten miles to Chair Ladder were hard. Both of us had bike malfunctions that required stopping and sorting, and the terrain was packed with leg burning hills. The thought of the amount of miles to come made me dread the next few weeks, but before long we had made our way to the edge of a breezy Cornish sea cliff, and the climbing could begin! The easily recognisable pinnacle of Terriers Tooth was first and climbed really well despite its recent rock-fall. Pendulum Chimney was next, and I laughed when I realised that the 40 metre length of 7mil rope we had brought along was only just enough to allow us to abseil to its base, with about 2cm to spare!
| | |
| --- | --- |
| | |
That afternoon we cycled to Sennen Cove to climb Demo Route. It's a beautiful piece of rock, and one I've always looked forward to being able to climb. Unfortunately, things nearly took a turn for the worst when a freak rain shower began just as I was about to step off the ground for the solo (Marc was filming from the opposite cliff). The rock quickly became soaked, and my efforts of speeding up the climb to beat the wetness ended in vain around halfway, when I retreated into a easier neighbouring climb to take me to the top safely. Fortunately, the sun soon made a reappearance, and within half an hour I got to tick Demo Route off the list.
We cycled another ten miles or so that evening, and the following morning headed to Bosigran to climb the multi-pitch Doorpost. It didn't take us long, and we were quietly confident that the planned 50 miles of cycling that afternoon wouldn't be much of an issue. These positive thoughts came crashing down a few hours later however, when the stress of the last few days of packing, logistics and lack of sleep all began to take its toll at once, and we found ourselves sat on a verge near St Ives, with no energy and no idea how we were going to make it to our intended destination of Bodmin by the evening…
This moment, on only the second day of the trip, was not a great one. My worries about managing the cycling with all our ridiculous amount of added weight seemed to be coming true, and we made the call to stop early in Truro (we would have to play catch up with the miles the next day). I spent most of that night wondering what on earth was going to happen when we got on our bikes again, but low and behold our fitness seemed to come back, and we successfully covered the 56 miles that lay between us and Dartmoor the next day.
Day four started for me with a solo of Climbers Club Ordinary at the Dewerstone – a long and varied climb that takes you high up above the trees of the forest surrounding it. After that we had to face the 63 miles that would take us to Ilfracombe, where we absolutely had to be the next morning if we wanted to catch our ferry to Lundy. As you might imagine, it was a long and hard day, with a sickening amount of ascent and some of the steepest hills I've ever had to cycle up, but we got there in the end, albeit with aching legs! The fact that we had upped the mileage significantly over the last couple of days made my confidence (that had dwindled on day two) in the distances we could cover in a day grow again. I knew that the first week of this trip would be hard in terms of fitness, and was relieved to be seeing an improvement.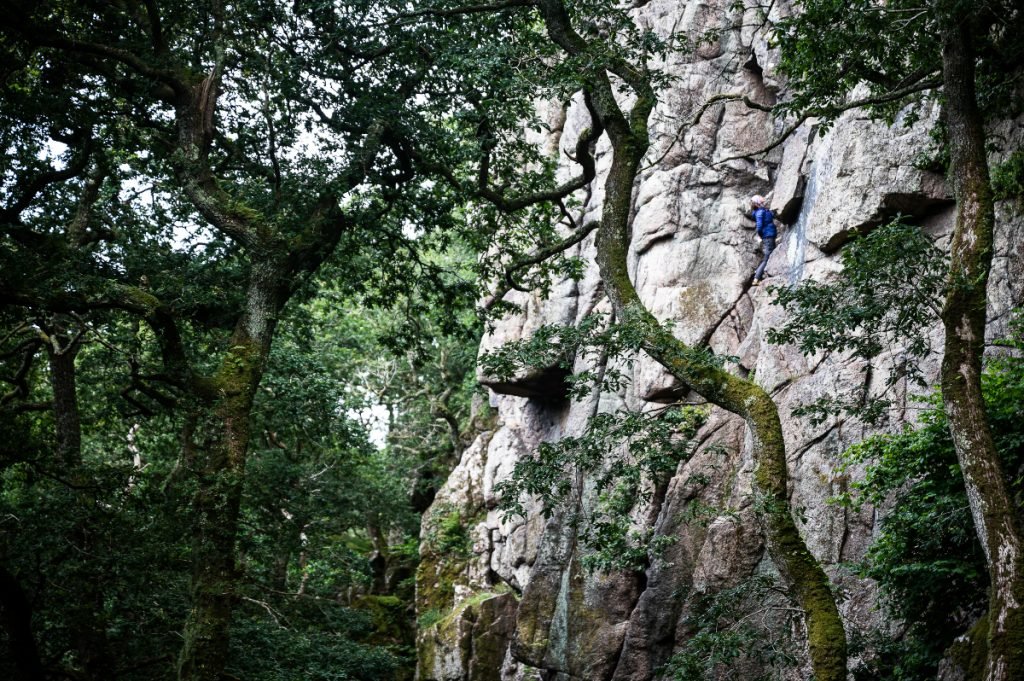 Day five was a welcome relief, as for the first time since starting the trip we didn't have to do any cycling! The sun was shining and the sea was calm as we took the ferry out to Lundy island, and upon arrival we headed straight for the famous granite sweep of the Devil's Slide. Soloing this climb was one of the most enjoyable experiences I've had in a long time. I left Marc with his camera at the top of a gully around halfway up the Slide, and down-climbed an easy rib that took me to a small platform right at it's base. The 115 metres of slab climbing above me looked slightly intimidating, but I realised from the moment I stepped on that the angle of the rock made almost anything usable as a hold, and within five minutes I was above Marc, and heading to the top. The final traverse left at the very top of the Slide was possibly my favourite part of all, where I could look down at the vast expanse of rock and sparkling ocean below me. After a final scramble pitch the Devils Slide was officially off the list, and we headed back to the ferry for some much deserved sunbathing and ice-cream.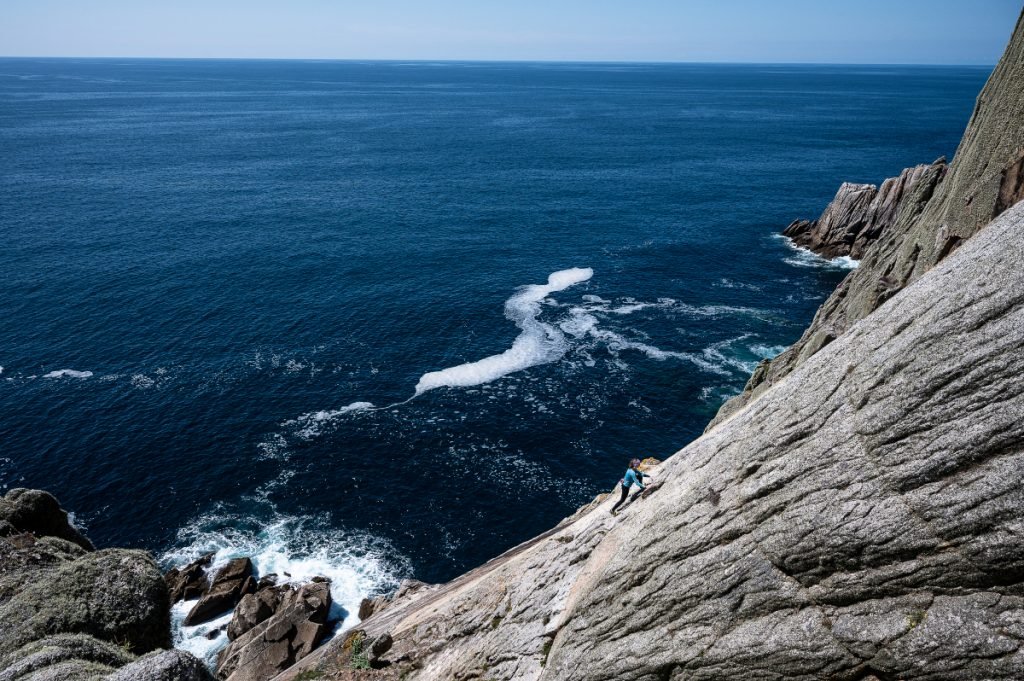 The next day was an "active rest" day. We were massively behind on admin but wanted to cover a bit of distance before doing any work, so decided to ignore the awful weather forecast and cycle 25 miles to Exford in the pouring rain. Whilst it was a soggy and altogether quite miserable experience, it payed off when we crossed the border into Somerset – another milestone! That afternoon was spent catching up on all of the writing, film editing and audio recording we had to do, and also having a proper rest. The weather for the next couple of days looked nothing short of terrible, but there was a chance that if we just knuckled down and had an early start the next morning, we could make it to the Avon Gorge and finish the Southern Leg of our tour in seven days – something I had originally hoped for, but thanks to the weather and innumerable technical hitches that come with finding your feet on a trip like this, hadn't seemed very likely. It was going to be a big ask, but it was all to play for…
The next day was, to put it bluntly, hellish. 67 miles of road stood between us and Bristol, and there was a distinct lack of enthusiasm in the air as we packed up the bikes and got ready for yet another long day in the saddle. The one saving grace was that the promised bad weather seemed to already have blown itself out, and we experienced only one shower in the ten or so hours we were on the bikes for. Many hills were climbed, and moods were tested, but finally reaching the towering walls of the Avon Gorge was a pretty good feeling. We had covered over 350 miles to get to this point and topping out on the final climb of the Southern Leg – Piton Route – felt like the end of the first chapter of this expedition. We're going to have a much deserved rest now before moving on, but I'm already looking forward to what's next.
Pics by Marc Langley