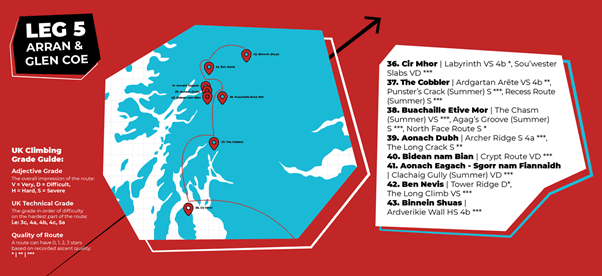 Soloing is always a tricky subject for me. I do a lot of it, and I love it, but even so…there's no denying that the consequences of failure are high. At the start of this trip I only intended to solo the climbs that I knew would be easy and straightforward, and only on good weather days, but as the weeks progressed this didn't end up being the case. For various reasons I was ending up on the climbs alone more often than not, and by the time I was in Wales I was beginning to play with the idea of soloing the climbs even in bad conditions – as if I took a short rope and a basic trad rack with me, I could theoretically get myself out of most bad situations should they occur. 
Wales – whilst at the time felt a little out there, was really only the warm up. I got used to questing off into unknown terrain with no visibility and water falling from the sky, and situations that at one time would have seemed unjustifiably dangerous to me become normality. The Lakes brought this home further, and here I realised that my original statement of "I don't really want to solo any of the Scottish routes" could now perhaps be ignored. Cautiously I began to entertain the idea of going for the Scottish leg alone, and before long I found myself in Glen Coe, with sore legs from cycling and a small amount of climbing gear, staring up at The Chasm.
The Chasm is an enormous gully that cleaves down the side of Buachaille Etive Mor. It's around 450 metres high, and has a reputation for lots of loose rock and en-route waterfalls. Knowing this, I approached it tentatively. The cloud was hanging low over the mountain as I arrived at the bottom of the first pitch, and I knew that once I got established in the gully it would surround me and block out any sight or sound of the outside world. I began to climb, and was soon stuck into the (seemingly endless) lower pitches. I encountered plenty of loose rock, but with care it could generally be avoided. All was well until I found myself two pitches away from the summit, staring up at the escape from the Devil's Cauldron (a large cave somewhere near the top of the gully). The rock above me formed a steep chimney, and recent rains had created a watercourse that spilled from the top and poured down towards me, soaking the rock and making a normal solo ascent completely out of the question. Fortunately I had foreseen something like this occurring, and had brought along my rope soloing bag. With a lot of faffing, I managed to wriggle my way up the chimney, clawing gear placements out of moss and mud as I went. The water made it almost impossible to look up, but slowly I made progress, and eventually made it to the very last belay before the top. As I was rope soloing, I had to then fix my rope before abseiling back down to retrieve my gear, and then climbing the whole pitch again, but the safety gained was worth the extra effort. I repeated this process to get me to the top of the climb, then sat down on a rock, coming to the realisation that perhaps I really could do all of these climbs on my own after all.
Over the next week or so I did just that. I had a similar experience to The Chasm on Clachaig Gully, which was not as technical when it came to the climbing but was even more loose and wet. The more normal rock climbs in the Glen felt like much less scary propositions after that, and before long I had completed the lot and it was time to head over to the Cairngorms, where the cycle continued. By then the thought of going off into the mountains on my own to solo several pitches was not a scary one, and I loved my time on the longer routes of the area like Eagle Ridge up at Lochnagar, and The Clean Sweep at Hells Lum. The cycling miles were still hard fought, particularly in bad weather, but compared to the climbing the hours I spent on my bike were not very interesting. The big walk-ins to the crags have changed things though, as each climb is either on or at the bottom of a mountain, and fighting off the exhaustion long enough to keep going each day has sometimes been pretty challenging. I'm not complaining though, as it's been interesting to see just how much output my body can handle before it breaks – something I think will be useful to know for future plans. 
I've had to take a brief hiatus from this challenge recently to head up to Hoy with the BBC and complete a filming project we started last year. Respite it was not, as the main day of action featured a 4:am start and a midnight finish, with 12 hours on a rather large cliff in between. I can't say much more about it now, but the goal of our filming was achieved, and I'm looking forward to travelling back to the mainland and hitting the road again. I only have 7 climbs left to do now, and I can't wait to finally make it over to Skye, where this journey will end. It's been a long time coming.