For chapter three in our Real Action Heroes takeover, we get our hands dirty in Derby with Jamie and the crew at Down to Earth. DTE is a collective re-connecting more of us to nature, teaching people, hands-on, how to grow their own food. We journey through the midland drizzle to visit Jamie's allotment where, waiting for us on the other side, are some proper rays of sunshine from the whole team. Apt too, because this partnership is all about shining a light on how one simple change can grow into something great.
Our mission with Down to Earth is – We're all here to reconnect people with nature, reconnect them with their community and ultimately reconnect them with themselves because we are all part of the natural world…. To show people that way of thinking and changing the way they think about things is the start, and then we let people go on their own journey of connecting with nature.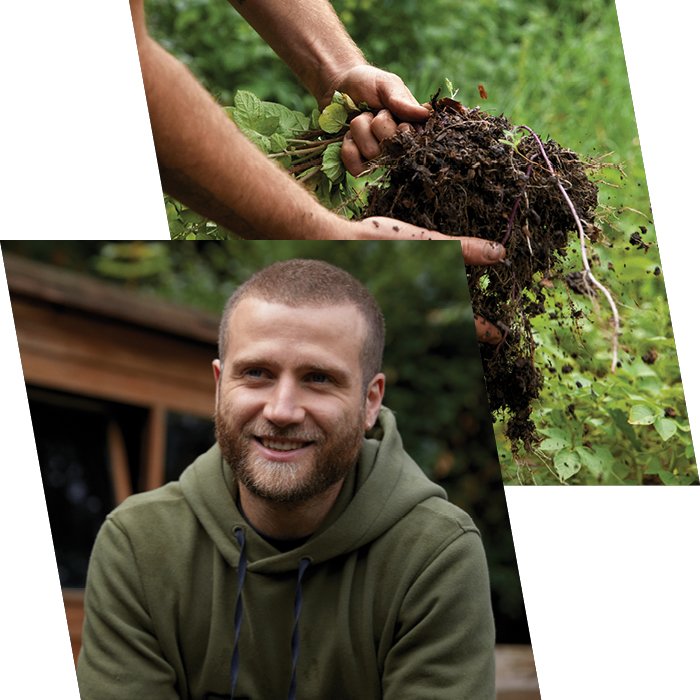 It's an ethos which hits home with the team at Berghaus. During the pandemic, we've seen the shift from the great outdoors to our good old front doors. That's why our mission is to get more people outside and to feel the wonder, excited whatever that journey looks like. How we work with our local green spaces has become much more of an important issue and, since teaming up with Jamie, it's clear he's along for the ride. The best part about hanging out with him, though, is how positively he looks at giving back. It all stems from regenerative living, he explains.
Regenerative' means that we want to put back in more than we take out. When you do this, you actually tend to get more back. It it's like a gift-economics with nature. You've gotta look into that. There's something there. If you're giving back to Earth more and Earth is giving you back more, that's because you are connected to Earth. I know how hippie and how crazy that can sound but just look at the logical sense it makes!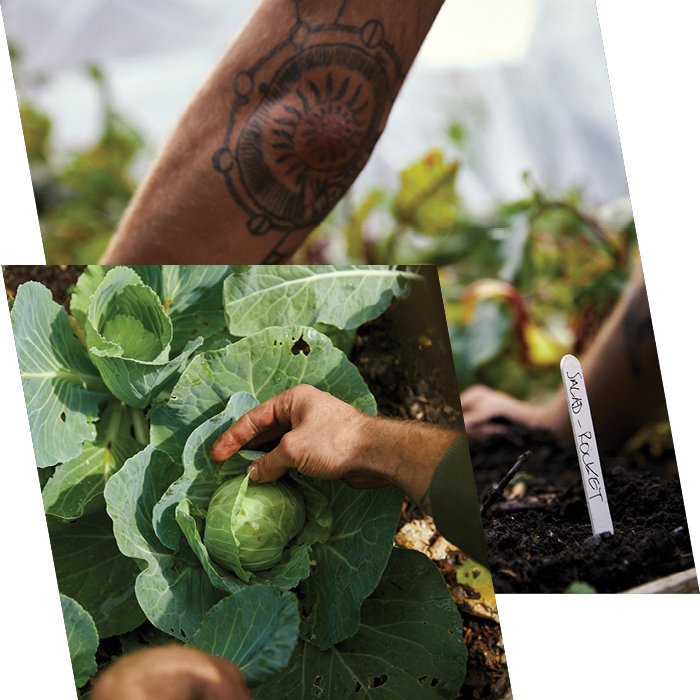 Jamie puts the 'Real' in Real Action Hero. It's all born from picking up a shovel and making mistakes along the way.
Some of the first things I started planting were easy stuff like salads… I actually went to a shop to buy seeds and I just bought everything that I thought was cool, let's see how that grows. Along the way, the failures, they don't stop. They never stop. You think you've cracked it, but you never have with growing food or gardening. There's always something. Nature will always show you a lesson of patience [through] how you fail… You can't win and you can't beat nature. You have to work with nature… it's like digging for treasure!
Now, he's formed his own way of doing things sustainably which anyone can get involved with, whether you're growing on an allotment, in your garden or from tubs in your kitchen.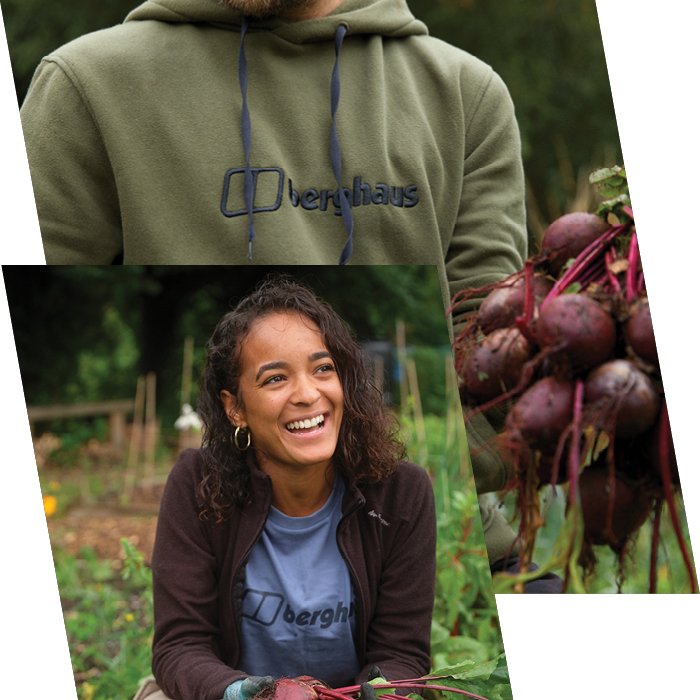 The methods that we use, growing on the allotment [are] all organic, regenerative, as sustainable as possible. We keep everything closed loop, meaning everything that comes off the plot gets turned back into compost to go back on the plot. You can't not be sustainable [when you're] looking to be connecting to nature.
 Ultimately, it's that respect for nature that connects us with Jamie. Like him, we recognise that it's a journey that's not always perfect but the little things you do add up. Despite growing DTE from his conflict with his place in the modern world, he's still calm, still passionate. He knows he's doing what he can to make a difference and in tune with something really unique.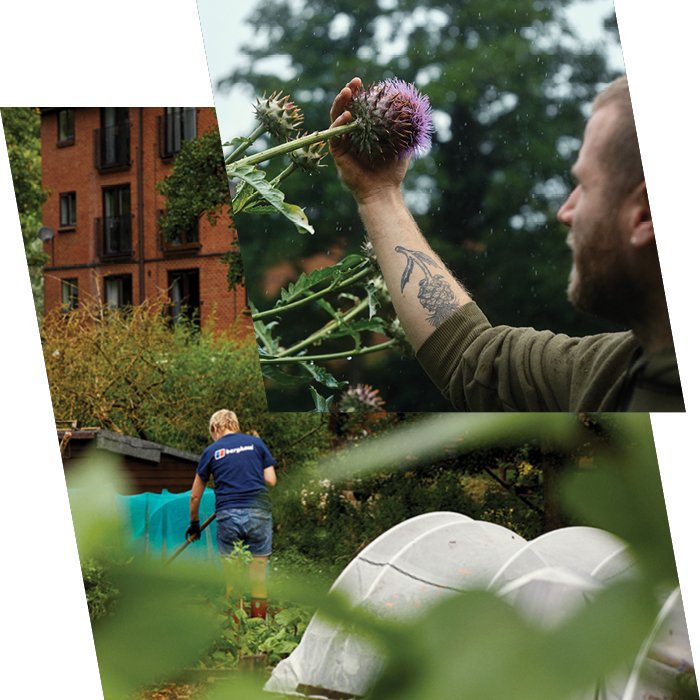 Growing your food on an allotment that's local to you or in your own garden… imagine the effect on the environment that's going to have, taking out that carbon [from your food miles] is absolutely massive… It's empowering, its uplifting. We talk about how important it is and how great we feel after [we go outside] but people forget that's how you should feel because you're supposed to be out doing this stuff. It's not just for a certain group of people, this is for everybody to do… if we can start showing people why it's imperative to their health and wellbeing then that's going to support the health and wellbeing of the planet as well… there's so much doom and gloom, let's be positive about it and take direct action and actually do something instead.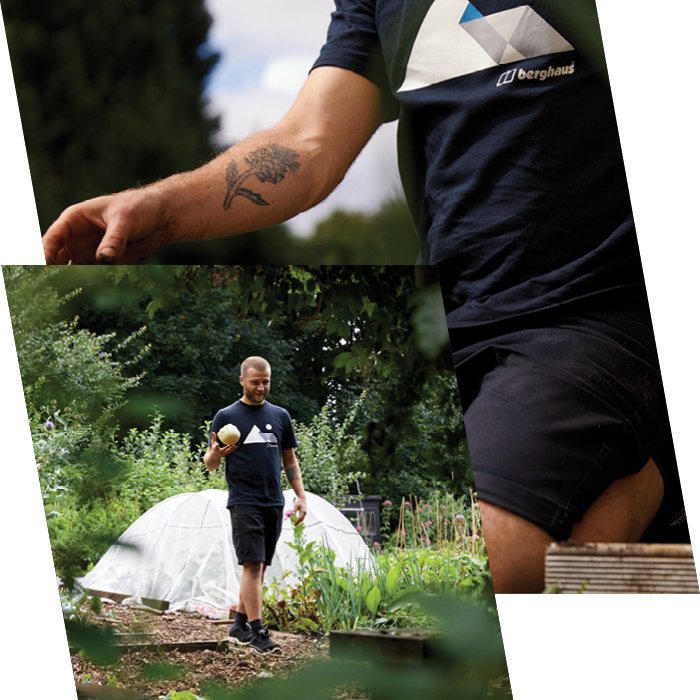 You don't have to grow everything. It's amazing if you can! But also, just start growing something that you're going to eat… If you've grown something in your garden and you're taking it inside your kitchen which is about 10 yards [away], it's still living. That food's got life in it and then you're going to put that life into you. That's pure. That's proper sustenance… and it will take you on a journey.
 Jamie's journey, despite already being, established, feels like it's only just beginning. From community allotment sessions, to getting what's grown into the kitchen, Jamie's woodland rambles connect people from all over the country. We're so excited to back Jamie and Down to Earth, and to show you even more of what they're doing for Derby (and the planet). But, before we get carried away, Jamie reminds us of one important piece of advice…
 How do you eat an elephant? You do it bit by bit!
 Thinking small doesn't seem so silly after all.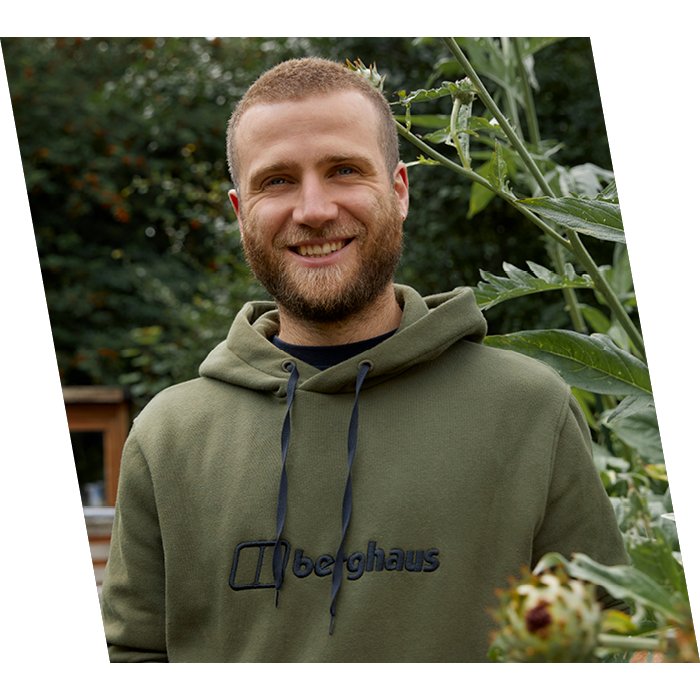 To get stuck in with DTE, check out https://www.dtederby.org or look for community grow sessions in your local area. Finding the right support system to share your passion, whether through friends, family or connecting online will only help grow your project. As Jamie explains, it's all about doing what you can, directly. From composting at home to growing potatoes in a bucket, starting somewhere is all about starting. Research what you can do easily, within your means and have fun with it!
 To find out more about the small changes Berghaus are making, check out our sustainable cotton range.