Date 15/05
Day 10
Location N 72 0.27 W 047 29.16
Distance (day/total) 0/371 miles
Weather Sunny, no wind
Wind 0mph
Temp -7c
So, good news and not so good news, for those of us that rely on the wind for power; but it has just be refreshing to get out of the tent. Lots of digging and sorting of kit after the storms of the last few days. Our smaller kites had again accumulated snow inside the cells that make up the wing shape. As we found the other day this can cause some difficult flying characteristics, so all the kites have had a good clean out and are ready for action again.
So the plan for today is to wait until about 6pm when hopefully a 10-15mph Easterly katabatic wind will form and we will ride through the night. Not as daft as it sounds, as the sun barely dips below the horizon effectively making 24 hour daylight. Follow us on our live tracker: https://share.delorme.com/leohoulding to see how we get on.
The last 48 hours have been a bit of a technical challenge with fading batteries, spam filters, domain controllers, and all sorts of other WiFi and bluetooth headaches. Being quite tech savvy, in some ways it has been a bit of a welcome distraction from the boredom of the tent, but even I was starting to believe it might have been easier to breed some homing pigeons to carry our messages back to the UK.
In 1888 Fridtjof Nansen, together with five companions, became the first to cross Greenland's inland. They spent six weeks skiing across the ice cap from east to west and they were somewhat driven by the incentive – "West coast or die".
Today communications have changed the adventure risk. There are not many places on earth that we can't simply communicate with someone to summon help (whether that help arrives in time to make a difference is another matter). So what do we carry to keep in touch….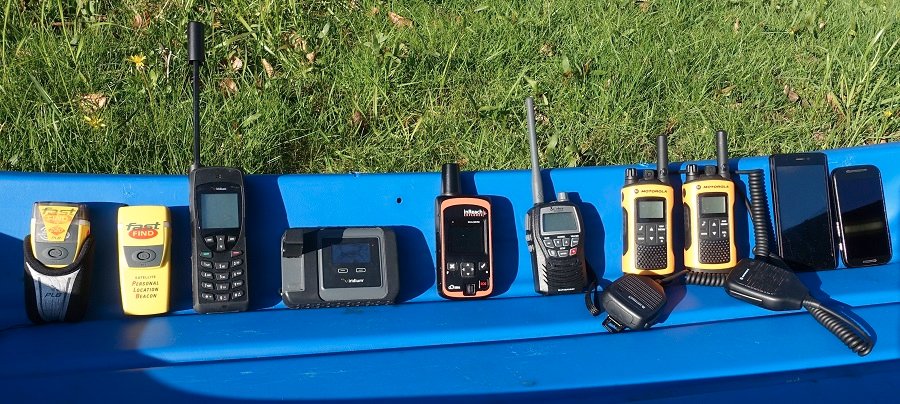 a) Personal locator beacons – A neat little device, which when activated, sends a distress signal with its GPS location to a worldwide monitored rescue coordination service. From activating the unit it is normally only a matter of a few minutes before the relevant local rescue services are alerted. The device cannot send any other information such as the nature of the emergency.
b) Satellite Phone – A "mobile" phone that works anywhere in the World. Useful when we need to call for advice or help.
c) Iridium Go – A satellite gateway for smartphones. By linking our Android phone and iPhone to the device it makes our normal mobile phones act like satellite phones. The system provides a SLOW data network to send blog updates and receive weather and routing information.
d) Delorme InReach – A satellite "Big brother". Tracks our position every 10 mins or so and uploads this to a website ( http://share.delorme.com/LeoHoulding ) that can enable others to check we are not on some sunny beach holiday.
e) Marine band VHF portable radio – Useful to communicate with rescue services such as helicopters over a short distance.
f) Personal radios – these are for talking to each other. It is always wise to keep a good 50 metres from each other when flying kites as they seem to have a magnetic attraction to one another which never ends well.
g) Mobile phones – Not much use away from the settlements of Greenland but a handy device to hold pertinent information on such as manuals for the stoves and permit documents.
Hopefully next update will be further North.