The 1000m+ cliff forms the headwall of the tallest mountain in the group, set above a wild, uninhabited valley. A complicated approach and glacial descent give it a decidedly remote and committing feel.
The 200m long, 5.12 (E5) crux corner of the 30 pitch route, high on the head wall is the climax of what must be one of my top ten best climbs of all times.
Will and I set off early with minimal kit for a one day ascent. No crampons or ice axe, no big cams. Just one rope, a 4mm tag line, the rack, some ultra light approach shoes, a good head torch, a solid partner and an extremely committed attitude.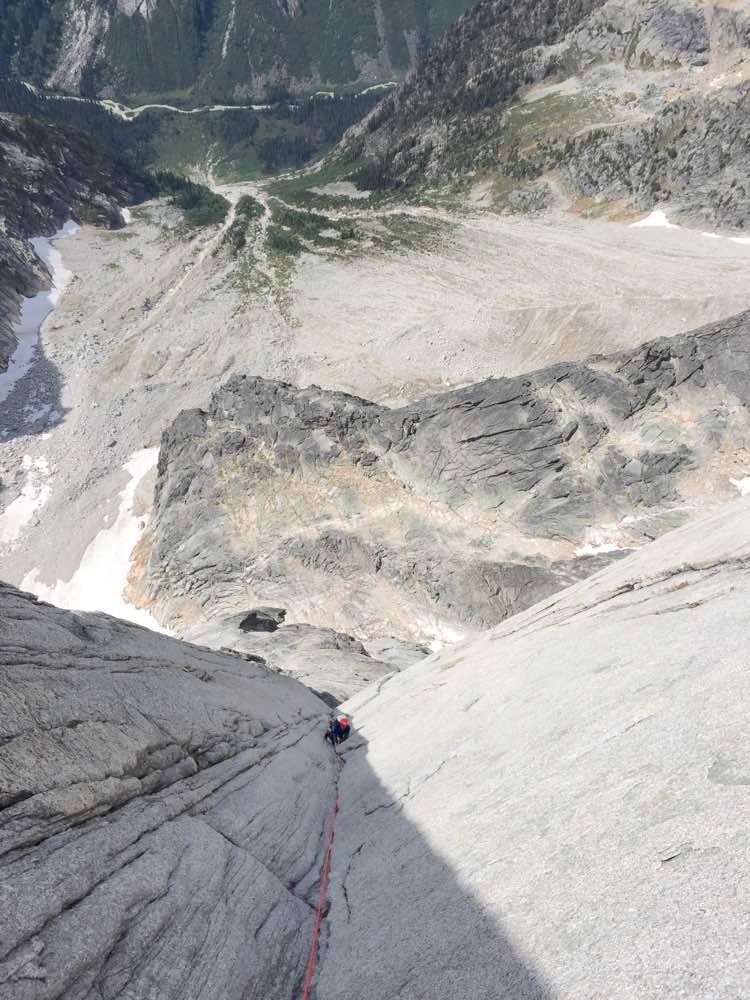 The 200m long, 5.12 (E5) crux corner of the 30 pitch "All along the watch tower" on the head wall of the N. Howser tower overlooking the wild, uninhabited valley to the west is as good as climbing gets.
We simo-climbed 500m of interesting, easier terrain with the odd tough section in two swift blocks. It was much fun climbing the equivalent of 20 Lakes Classics in two pitches.
We reached the mega corner around noon. It took time and effort to climb the three long 5.11 (E3/4) pitches that led to the boulder problem crux roof pitch 5.12b (E5) before a final rope stretching 5.11 but we both managed to climb it all with no falls.
The long, complex alpine ridge that lead to the summit would be a classic in itself but packed a punch after such an approach. Magnificently exposed scrambling intersected with sections of real climbing continued for a couple of hours. Initially we moved roped together in trainers then un-roped for the final section. Hiking with consequences!
Will and I have never climbed together before this trip and very much enjoyed moving so quickly, weaving around gendarmes and skipping over slabs high in the drama of the great Canadian wilderness.
We topped out at sunset eager to find the line of descent down the other side of the mountain before dark. We rappelled down an unpleasant gulley for a few rope lengths then made a scary free hanging 60m abseil into the giant Bergshrund as darkness encroached.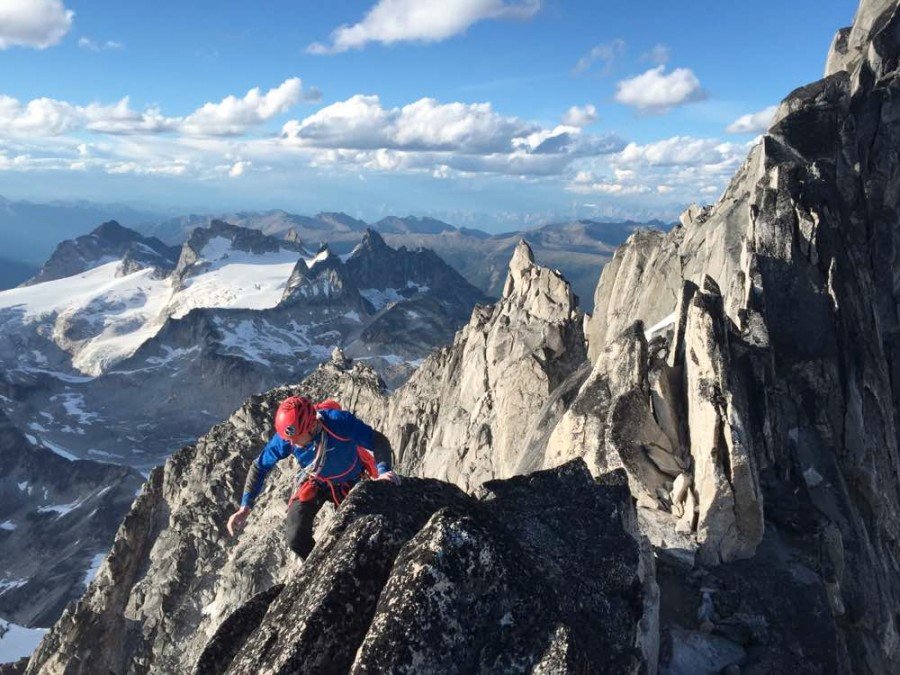 Leo moving quickly chasing the sunset on the magnificently exposed summit ridge. Hiking with consequences!
We kicked steps in trainers and clawed battered, bare fingers in to the steep but thankfully sun softened snow slope dodging crevasses and avalanches fall lines to finally reach the col above our camp.
Letting our guards down for a second we descended without realising how much the snow had melted in the time that we've been here and were unable to follow our previous route without crampons forcing us to walk back uphill for a hour to find a different way.
We stumbled into camp after 16 hours having succeed in a one day, no fall ascent of one of the finest climbs in North America with seriously battered hands and sore feet.
Two rest days required!