From the belay 20 feet below, Waldo Etherington yelled, "Just put in a bolt, mate. You don't want to break your legs out here!"
"Thanks for the encouragement!" I snapped, brushing coarse sand from the holds. "Would you mind shutting up and leaving me to it?"
I was determined to give my best shot at an all-free, all-clean ascent of this 300-foot spire we had dubbed "The Leaning Tower of Disah," due to its uncanny resemblance to the famous structure in Pisa. Yet on our first route here in the Kingdom of Saudi Arabia, where we'd come to check out unclimbed desert towers in Wadi al Disah, I'd been struggling for an hour to leave the ground….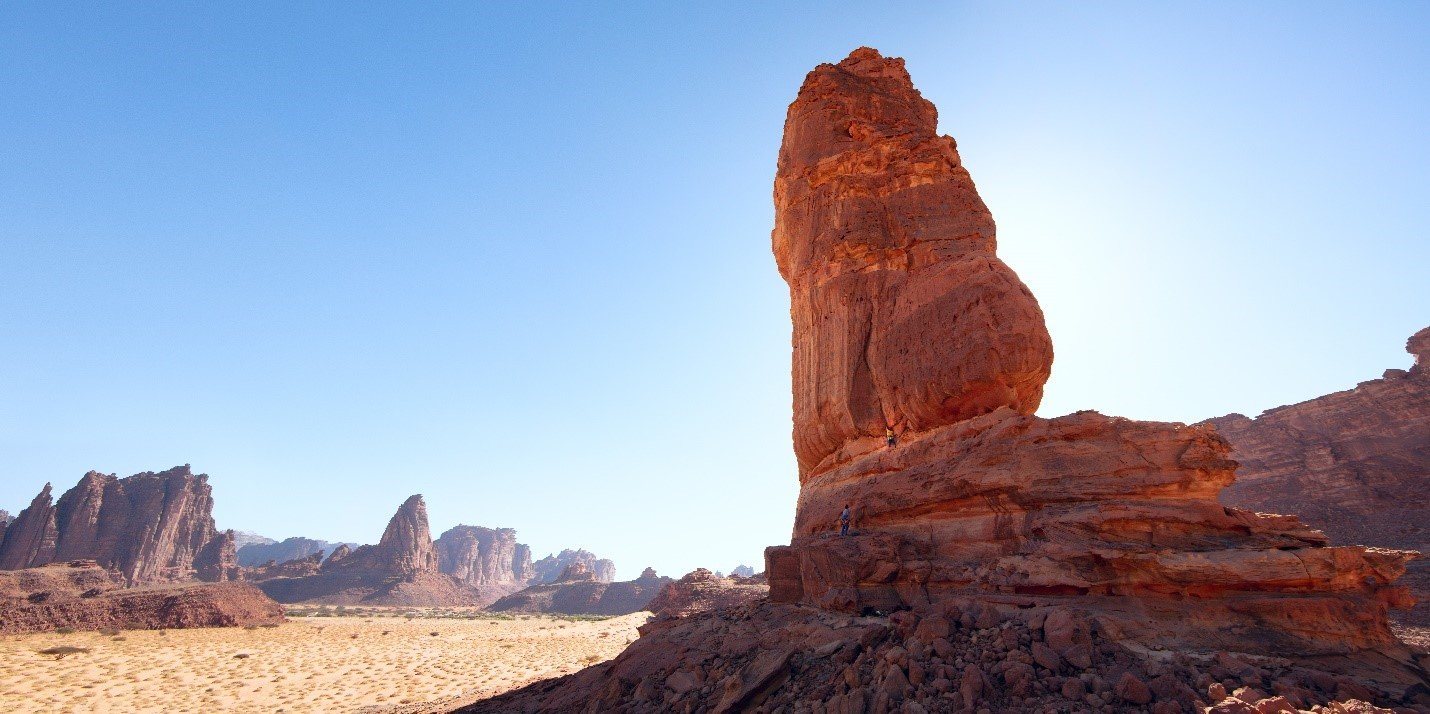 Wadi al Disah came onto my radar in late 2019 when a Saudi friend and new climber who was visiting the UK showed me a picture of a tower shaped like a Saturn V rocket, soaring above a green oasis of palm trees and tall reeds.
"Do you think this might be a good place to climb?" she casually inquired as we sipped flat whites in a hipster Notting Hill coffee shop.
"Hell, yes! It looks epic. Do you know if it's been climbed?" I responded, pop-eyed. I'd just seen the tower of A'atir, which would someday become the ultimate destination on our trip.
She was more than a little surprised when just two months later, in February 2020, I showed up in Riyadh with my old Stone Monkey friends Jason Pickles from the north of England and Ivo Ninov from Bulgaria, and Waldo Etherington from Dorset, all to find out just how good it might be.
The Doors Open—Briefly
On September 27, 2019, the long-closed Kingdom of Saudi Arabia formally introduced an easily obtainable tourist visa, as part of wider plans to modernize the country and diversify the oil-dependent economy.
Although there had been some climbing and exploration by expats, with a scattering of routes recorded from the early 1990s onward, the doors to the vast wealth of climbing potential in the Kingdom had been firmly shut until that time. And when they did open, they slammed closed again just a few months later, thanks to the COVID-19 crisis. Fortunately, our crew visited during this short window.
In many Western minds, the name Saudi Arabia conjures up preconceived images: ultra-conservative Islam; repression of human rights; and vast expanses of desolate desert, home to globally dominating oil reserves.
Less well-known is the scale of the country, which is approximately four times the size of France, or the fact that running parallel with the Red Sea along the entire Western spine is a chain of rocky mountains over a thousand miles long, the highest summit, Jabal Swada, reaching 10,279 feet. Though much of the exposed rock is too fragile for climbing, there is endless potential to explore new boulders, crags, canyons, and summits.
The area of interest to us was Wadi Al Disah, a complex area of sandstone canyons and pinnacles in Tabuk province in the North West. A landscape reminiscent of Utah's iconic Canyonlands, it is about 200 miles south of the long established Jordanian adventure climbing paradise of Wadi Rum.
Although I have had the privilege to visit other little explored corners of Earth they have always involved arduous, long and difficult expeditions to extremely remote places. To discover an easily accessible region, in such a culturally fascinating place, unknown to the climbing world with multiple towers and countless other unclimbed walls was a once in lifetime treat.
Into the Kingdom
We flew from Riyadh to the new airport in Al'Ula and collected our rented Toyota Land Cruiser. A 4×4 is essential for exploring, though it would turn out that all the features we climbed could be accessed with a regular car if you were willing to walk a bit farther.
We drove out of Al'Ula across a high plateau into a region of jagged peaks before a long, winding descent into the Disah Valley or Wadi al Disah, in Arabic.
"This is more like it! I reckon we're in for some action!" said Waldo as we entered a steep-sided canyon, with red sandstone walls up to a thousand feet tall on both sides, at some points little wider than the car and with pointed summits littered everywhere. We put the Land Cruiser through it's paces over the rough, boulder strewn canyons, getting stuck multiple times in the deep, soft sand.
The first rocks we touched confirmed the presence of stable sandstone, though not without some loose sections. As we'd learn, Wadi al Disah is definitely an area for the adventure climber. Boulderers, sport climbers, and trad climbers used to perfect rock will find what they're looking for elsewhere in the Kingdom, but not here.
By day we explored the vast and complex region, scouting to identify the proudest looking features and lines. It was pure fun to discover such an incredible adventure playground. No agenda, just five friends, a 4×4, some racks, ropes, and high hopes.
At night we drove to within a five minute walk of the incredible Leaning Tower of Disah where we slept in the sand under the magnificent desert sky that rained shooting stars like a firework display.