Why we're spotlighting the platform that is changing the face of birdwatching and nature for people of colour.
Finding a new hobby and outlet through birdwatching, Flock Together is a collective that brings young people of colour together in a safe, inspiring, and natural setting.
Flock Together is a monthly birdwatching support club that is combating the under representation of people of colour in nature—founded by Nadeem Perera, a Black football coach of Sri Lankan and Jamaican descent, and Ollie Olanipekun, a creative director of Nigerian heritage.
Lockdown has given many people a chance to get out and explore what they have on their doorsteps. For Flock Together, that's precisely the case – initially set up as a support group for black, brown, and other POC and to help reconnect young Londoners who maybe weren't aware of the wealth of wildlife dotted across the capital
We teamed up with the bird gang for our AW20 Dean Street campaign that follows four friends from the collective on a walk, capturing the city and the Hackney marshes – a now cemented spot for the Flock Together community.
We had a chat with one half of the Flock's founding duo Ollie. Scroll on for more insight into the work of the collective.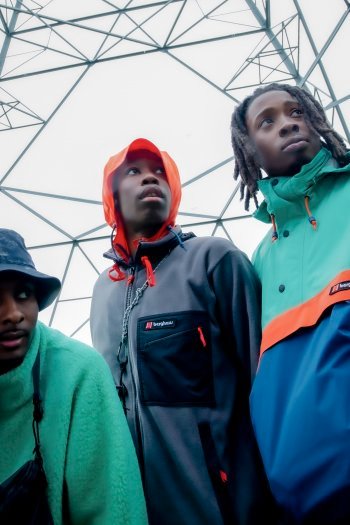 Q: Why did you decide to start Flock Together?
A: "Flock Together was started because myself and Nadeem understood the benefits offered to us through nature and wanted to highlight those benefits to our community."
At the heart of Flock Together is birdwatching, but this group is about much more than just that. In a space that has been overwhelmingly owned by white faces, the group's target is to combat the under-representation of Black people in the natural world.
Representation in that outdoors isn't just what Flock Together is here to achieve. Another key focus for the collective is to directly help people of ethnic minority backgrounds and become a healing space for them. With each walk lasting a couple of hours across pre-planned routes through London parks or natural reserves, it's easy to envision how these natural spaces can not only become a place of support but a place of nurture.

Q: How do you think people can help improve the representation of POC in wildlife?
A: "For us it's about being "visible", by being visible in these spaces it gives confidence to those who have an interest but were maybe worried about the access. It shouldn't be "strange" or "interesting" when you see a group of POC in nature but for some reason this is the response we've had since setting up Flock Together. And it's this preconception we're here to challenge."
The AW20 campaign was directed and conceived by Flock Together founder, Ollie Olanipekun (founder and director of creative agency FUTUREIMPOSE).

Q: Can you talk about some of the references/inspiration behind the Flock Together x Berghaus Dean Street campaign?
A: "From the very first concept boards I was keen to tell an authentic story, a group of friends escaping the city for a fun day out in nature. The images follow that familiar story but what we wanted to ensure with this campaign was that collective joy found when escaping the city with your friends. This joy can be seen as escapism, or healing or just simply random, I wanted viewers to draw their own conclusion based on their own personal vision of the outdoors."
As the Flock Together initiative grows, the cross-section of creative people that are regularly exchanging tips, brainstorming and working together on walks does too. Flock Together isn't a brand, and it's more than a collective, it's a fully functioning community.
Q: Would you say there are some key similarities in the exclusion of PoC in nature to similar resistance they have faced in the creative industries?
A: "Our members are made up of many people from the creative industries, we work in white dominated spaces so there are going to be experiences past, present and future that as a collective we hope to support each other through. It can be a very lonely place trying to navigate a career as a POC so anything we can do to make that journey smoother for us and the next generation will always be a fundamental objective for Flock Together."
Flock Together isn't just London focused and since their first walk back in June 2020, there have been numerous cities launch their  walks with the Toronto, Canada chapter launching in September. Other countries/cities are on the cards too, making Flock Together a global initiative.
Q: How can people get involved with the Flock Together community?
A: "We have so much planned for 2021, more walks of course but also lots of fun activations. We're constantly looking at ways we can innovate in this space so if you have any ideas for how we can do that then please get in touch."
One thing is for certain; Flock Together is changing not only the perception of Black people in nature but the great outdoors and how we all look at it.
The third season of Dean Street is available now and to follow the Flock Together journey, head to Instagram and watch the work of the bird gang unfold @flocktogether.world