We brewed coffee and ate delicious Arabic flatbreads beneath the Leaning tower, pitched at such an improbable angle, it seemed as if it could tumble over if you pushed hard enough, yet it has stood for millennia—a perfect finger of rock, its tip never before touched by human hands. 
That, however, was clearly not the case with its foot. The all-day shade of the north face, a refuge from the fierce midday sun, is decorated with a wide canvas of petroglyphs thought to be many thousands of years old. Simple, stylized carvings depict horse-mounted bow hunters and camel caravans crossing the desert. The entire base of the tower is undercut like a mushroom, with only one possible breach in its defence. 
I geared up and climbed an easy ledge system that led me to an awkward bulge through a band of crumbly sandstone. Here a creaky, chair-sized flake blocked access to a crack that led to a corner and promising line that might extend to the top of the tower. I had slowly arranged, equalized and weight-tested an array of unsound protection.  
I pulled up, weighted the flake, committed. Waldo and Ivo held their breaths; my feet skated on gravelly smears, and sand fell into my eyes. One more move. The flake held. One more. I reached the crack, a welcome kneebar, and the deep relief of a good cam.  
"Impressive commitment, but as chief safety officer I'm not sure I approve," said Waldo, a TV rigger and safety officer by trade. He was only half in jest.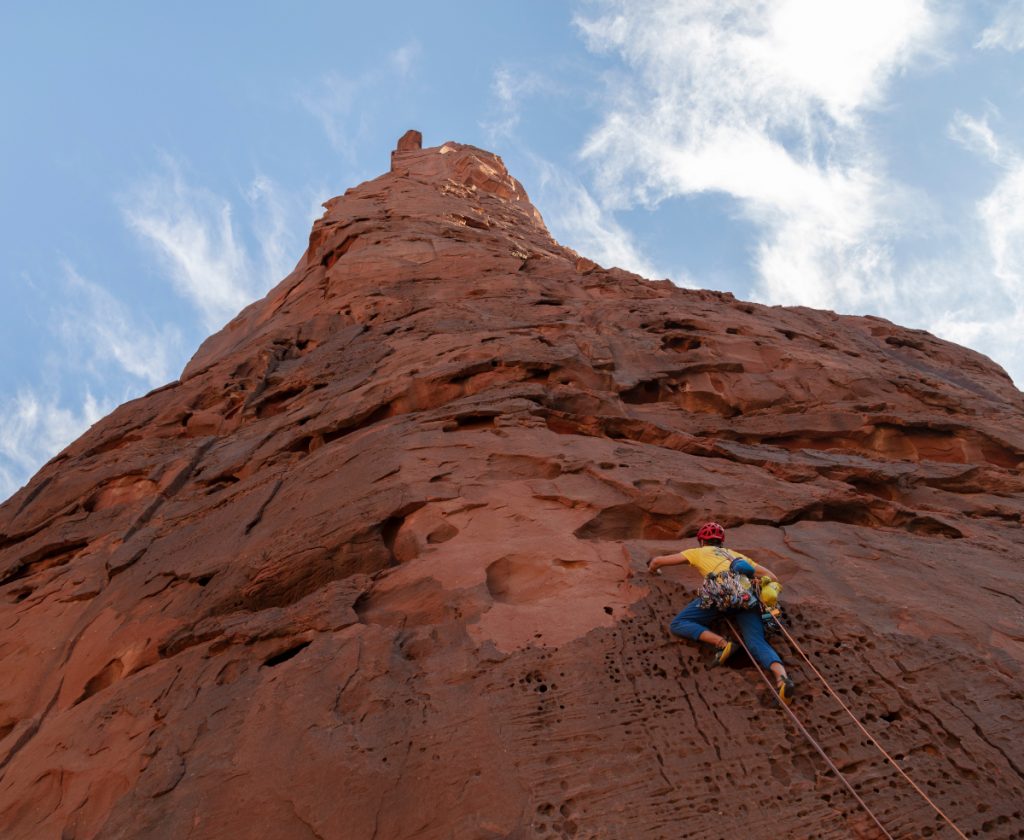 Once I won my battle to leave the ground on the Leaning Tower, the rock quality improved dramatically, and soon the punchy opening pitch led to a spacious ledge. 
"The whole bloody tower's vibrating like a gong!" Waldo said with concern as a pillow-sized block I trundled from pitch three struck the wall well to the side of my partners below.  
"I think she's gonna go!" taunted Jason.  
We followed the only free-climbable line on the tower, mostly face climbing with decent protection, many threads, and good wire and cam placements in the better rock. The route proceeded with far less difficulty than had appeared. 
Our slow first pitch meant the sky was already beginning to glow with the setting sun as I pulled onto another choss-covered terrace and considered stopping to belay. 
"I'm gonna keep going—should be just enough rope!" I shouted down. 
A hidden staircase wound upwards with some complex rope management to a final boulder problem surmounting the 10-foot-round summit. I manteled up onto it as the surrounding landscape of red rock lit up. I tied off the whole tower with the tagline as a belay, and soon all five of us shook hands on the summit. We'd done the route all free at E4 6a. 
"Not many first ascents left like this, boys!" I said, thinking, If this was in the States it would've been climbed in the 1960s and would probably be in 50 Classic Climbs in North America. We're lucky. 
"That's the most insane thing I've ever climbed. I was genuinely worried it was going to fall over when you dropped that block," the ever-cautious Waldo commented. 
"Look like a sweet exit here off overhang side," said Ivo in his unmistakable, Bulgrian accent. He has 1,400-plus BASE jumps to his name and had brought his rig. 
Without hesitation he geared up and jumped. The rest of us rappelled our route using threads for anchors. 

Rocket Ship Tower, A'atir
Standing close to 1,000 feet, A'atir, the Saturn Five rocket from the photo that had originally lured us here, is a contender for the tallest sandstone tower on Earth. 
An extensive online search revealed, disappointingly, that we would not be making the first ascent. An article from 2013 in The Arabia Sun, Saudi Aramco's weekly news publication, contained patchy information and a photo of an ascent of the tower by one of the company's employees, Donald C. Poe—from Lubbock, Texas, an oil engineer and resident in the Kingdom for 30 years. A proud effort and the only record climb in the region. 
We identified his route, an intimidating and unappealing line of chimneys on the East face. We opted to attempt a direct line up the west side of the tower, the face feature in the photo that had enticed us to Saudi. 
We scrambled up ledge systems to the wall proper, which transpired to be less steep than it looked. We swapped leads up three great pitches, encountering mixed rock quality that culminated in an awesome pocketed sandstone face. It looked bold and hard but turned out to be no more than E3, the slots receiving good gear in solid rock.  
Above a large ledge atop the pocketed face, the only possible line of passage was a beautiful splitter crack that soared skyward through a solid, overhanging wall.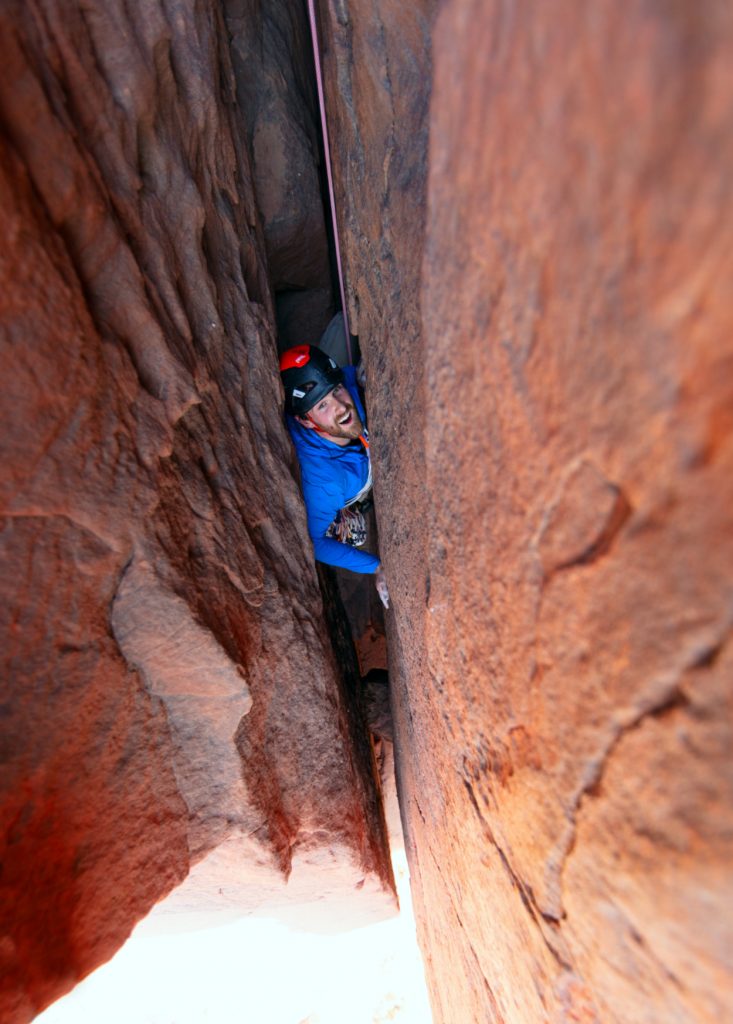 "I've only got three hand-size pieces!" I complained nervously.  
"You'll be fine—looks piss," Jason said with a grin. 
Thankfully the crack was first-class, thin to perfect hand jams all the way, and a series of hidden foot ledges made it far less strenuous and stressful than it appeared. After 100 feet, I reached a comfortable ledge the size of a coffee table. The call to prayer from the small mosque below echoed around the Wadi. 
Jason took the next pitch, angling to the right around the arête and up a corner that led to a hanging squeeze chimney through a roof, behind a chockstone, and up to a shaded ledge covered in choss—a pitch reminiscent of, but easier than, the infamous Harding Slot on Yosemite's Astroman. A short pitch beyond that gained a terrace on the north face of the tower, then a perfect corner, another terrace, and an easy chimney to the first summit. A scramble and a summit boulder problem, and we were on the top. 
"That's a future classic, boys, Astroman of Arabia!" declared Jason. 
"But a bit looser and way easier," agreed Ivo. 
Astro Arabia (5.11) is 1,000 feet, five stars. 
During our stay we climbed eight routes, over 30 new pitches up to E5 6b, all onsight without placing a bolt, piton, or point of aid.  
Wadi al Disah and Tabuk province host an adventure-climbing paradise that holds a lifetime's worth of first ascents. Imagine arriving in Moab in 1950 with a modern rack and knowing that only eight routes had been climbed? 
Saudi Arabia is a country in the midst of rapid and radical change. Tourism is a new concept, but given the country's wealth of historical, cultural, and natural wonders, I am sure it will soon become a major destination. As soon as the pandemic passes I, for one, will be returning.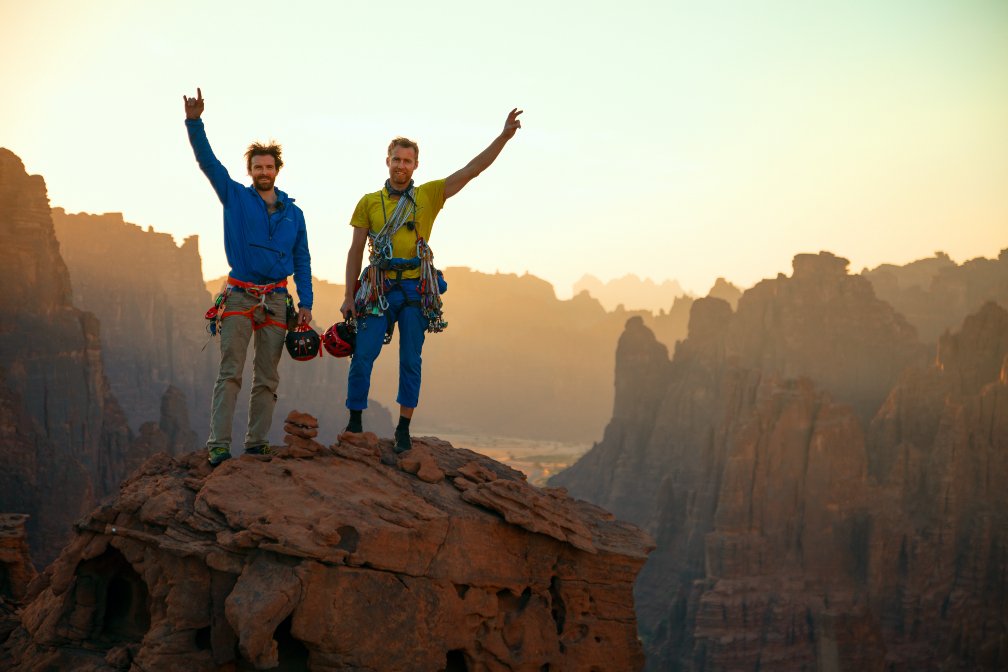 Missed part 1 of the story? Discover it here.