Lake District SUP fest. The perfect end to a brilliant week.
Quite the contrast to how the week began!
It was Monday that with a literal flying start we exceeded our expectations and completed the ice cap mission with the best day of snow kiting either of us have ever had.
Tuesday a magnificent dog sled journey across the frozen fjords marvelling at the magnificence of the world beyond the empty whiteness with a pair of characterful Inuit hunters led to a fantastic rendezvous with our fellow Norwegian kiters in one of the worlds most northerly towns Qannaq. A friendly place with a splendid view of icebergs frozen against the horizon though I'm not sure I'd want to live there. Danish resident Kim Peterson provides a life line to passing adventures helping arrange the dog teams, shipping, transport and accommodation with warm hospitality.
Wednesday, nursing after celebration heads blessed with warm sunshine we managed to dry and pack all our kit ready for shipping and catch our first plane south to Ilulissat with a stopover in Upernarvik. Without a hotel booking we were pleasantly surprised to be able to share Rolf & Johan family room in what turned out to be Greenland's finest hotel – Arctic hotel – once again complete with epic iceberg vista though at the lower latitude they floated free from the sea ice.
Another air hop back to our start point Kangerlussuaq made us realise just how far we traveled by kite, almost 4 hours of flight time. In a quick stop over we found Josef and returned his rifle, reclaimed our deposit and gave him a nice Berghaus down jacket to say thanks.
Having also failed to book accommodation for our final overnight in Copenhagen we were a little shocked to find all accommodation either full or ludicrously expensive so a whim asked my Facebook contacts if anybody could help out. By the time we landed in Denmark we had 4 offers of floor space and were soon collected from the airport by a lovely bloke called Michael, a lifelong trad climber and by coincidence expert in all things Greenland. First time I've ever been rescued by Facebook but dare say it's something I'd do again.
Still sporting beards, panda eye goggle tans though finally some clean clothes our adventure is already fading into the annuals of memory. The frustration of bad weather, pangs of homesickness and efforts of the journey are almost completely eclipsed by the excitement of the Heli drop, the epicness of the high speed, low drag last session and the camaraderie of shared adventure with Bruce and our Norwegian compadres over the final days.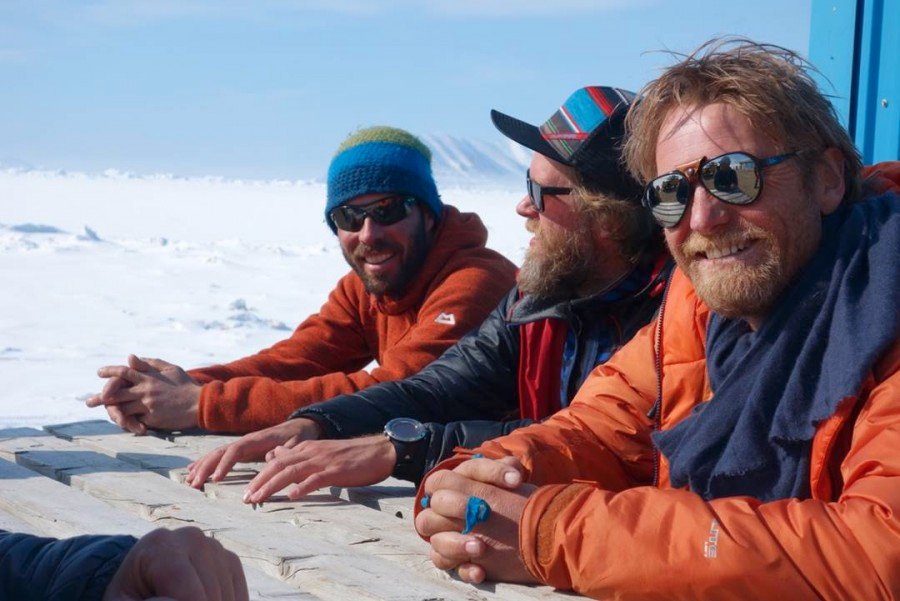 Ronny Finsas, Geir Norland & Johan Petersen our reunion in Qannaq with our fellow Norwegian kiters was a blast. On expedition as in life, people are probably more important than places
Already the 18-day expedition has been condensed into the start, end and middle but with memories selected accordingly.
I hoped to complete this mission as a relatively competent expedition snow kiter with a greatly increased polar knowledge and skill set. I'm certain this I've achieved and most pleased to have accomplished it safely and with much fun.
Should the metaphorical fair wind prevail along with my lucky stars aligning there is a chance that this hard earned experience will be put to good use in an all together more extreme undertaking in late 2017. If it does and you enjoyed following this blog, do let me know and I'll be sure to update when the next mission goes live!!!!!
I'd like a say a massive thanks to Bruce for being a solid, fun and extremely organised partner for this mission. Who'd have thought a retired systems analysis accountant with no sense of smell would be such a brilliant partner?
And on that note there are a few other shout shouts outs we'd like to make…
Our trip worked before we even launched the kites on the first day. The sharing of knowledge of the many experts along the way, combined with the genuine offers of people going out of their way to give us a hand meant that it stacked the odds massively in favour of a successful journey.
So although we were the only two on skis, the rest of the team are, in no particular order:
"Auntie" Jean Burgun (Snowkiting and nice guy)
Ronny Finsas (Polar snowkiting)
Carl Alvey (Polar snowkiting)
Hannah McKeand (Polar snowkiting)
Paul Landry (Polar snowkiting)
Michael Charavin (Polar snowkiting)
Marc de Keyser (weather forecasting)
Judith Irving (Medical)
Jess Corrie (Medical)
All the Corrie/Houlding family members for having to put up with the maximum amount of inconvenience for little or no reward
Finn Nielsen (Expedition Office – Greenland) Nigel Harling (Polar) John Garner (Polar)
Nigel Edwards (Polar) Matt Pycroft (Photo, Filming and humour)
Will Fletcher (Coolest kite graphics ever)
Terry Lowry (Pulk suspension system advisor)
John White (Greenland)
Kim Petersen (Qaanaaq logistics)
Michael Hjorth (Looked after us in CPH)
Josef (Kangerlussuaq, lending us his gun)
Berghaus (Clothing and Kites)
David Gibbins, Katie McNamara, Lisa Corkhill, Chris Lines (Berghaus – Publishing the blog)
Scarpa (Ski boots) Whitby and Co (Supplier of cool stuff)
James Tuffy – (awesome Adidas Eyewear Goggles & Shades)
Matt Taggart (Ozone – manufacturer of our stunning kites)
Matt Humphreys, Mike Ridding, Wes Orvis (Head UK – skis and bindings)
Joel Attaway (Forty Below – overboots )
Rupert Bonnington (Mountainfuel)
Angus Corrie (Daily update reports about conditions and status of other teams) – we owe him a Berghaus hat !
Plus many, many more people who did us favours or shared their knowledge.
(Oh, I nearly forgot, cheers Leo, you were easily one of the best of the availables I've ever been on expedition with…) – Bruce
Thank you to all, you provided the most memorable and enjoyable part of the journey.
Over & Out.
Leo & Bruce signing off