EXOTIC CLIMBS & TROPICAL REACHES STRAIGHT OUTTA… MACCLESFIELD?
Just like the Cassia root they're named after (it's kind of like cinnamon), Rob, Jake and Lou are all about infusing far out flavours into their brand of northern indie pop. Jangly guitars and bright hooks wave hello to afrobeat rhythms that get the good times rolling. Think summer walks with a skip in your step or a breezy road trip with the windows rolled down, something that all stems from the urge to explore beyond Treacle Town.
"The place that we come from is definitely, very rainy. I remember being in school and thinking I don't want my music to just be reminiscent of a grey place. I want to play something that sounds upbeat and sunny." Despite meeting here, the trio pull a lot of influence from artists like Fela Kuti and Ebo Taylor. It's this discovery of music further from what's traditional and western which has played such a huge part in influencing the band's sound.

"I got into music by playing the piano with my dad. But then found my own path by listening to records with my grandma that she had brought back from Zambia. There's a Zambian guitar style called sukus which inspired my first tracks."
Bringing together their balance of explorative session jams though is a tight production which makes everything work so coherently. You can tell they're craftsmen as much as they are wanderers. But even they admit, getting away from the kit and out into the world is where they find the best ideas.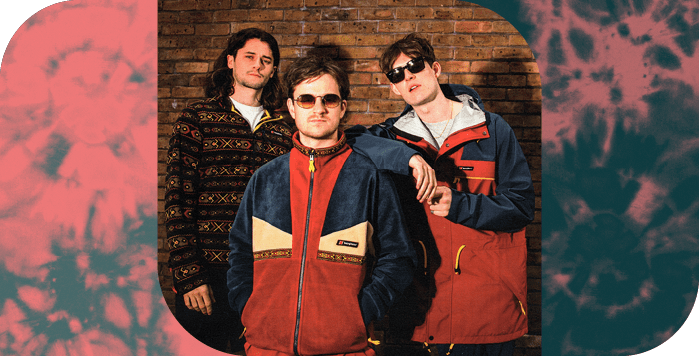 "Sometimes when you've got no phones and the birds singing and you're just like chilling, your brain starts thinking of all these sick ideas because you've given yourself the time and space to do that."