Himalayan Training Programme: 7 – Acclimatising on Mt Fuji
Acclimatising for the Himalaya is always a challenge and especially relevant when planning a trip with Victor Saunders who spends so much of his time guiding that he is in a semi-permanent state of being acclimatised – or 'up in the air' as some might describe him.
It was fortunate then that an opportunity for me to reach 3,776m arose on a recent trip to Japan organised by Berghaus and Kojitusanso . The main aim of the trip was to help launch a new 'mountain day' bank holiday in Japan (surely a good idea in the UK too?) but a couple of days on Mt Fuji was on the agenda too. Fuji is lower than our planned Himalayan base camp but for those who are desk bound most of the year every little helps, a fact that was brought home to me as I felt suitably breathless getting out the car at 2,500m.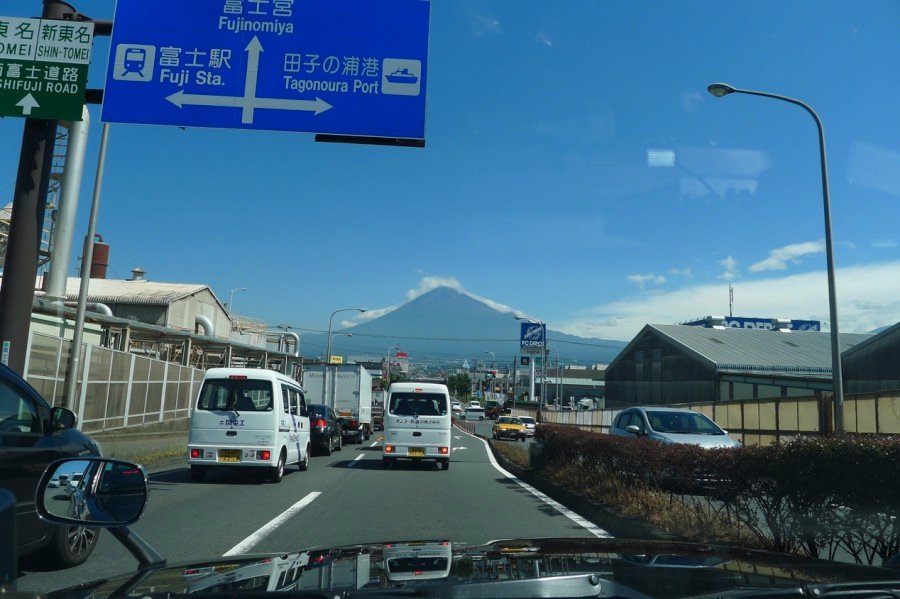 Undeniably Mt Fuji
By 3,090m I was gasping nicely and grateful to stop at one of the numerous mountain huts that cater for the 4,000 or so people that go to the summit every day in the high season. By now it had been brought home to me that Fuji is a huge pile of 'one step up two down' loose black ash. It takes about six hours walking to get to the summit and water is such a scarce commodity that it retails at not far short of £15 a bottle in the huts.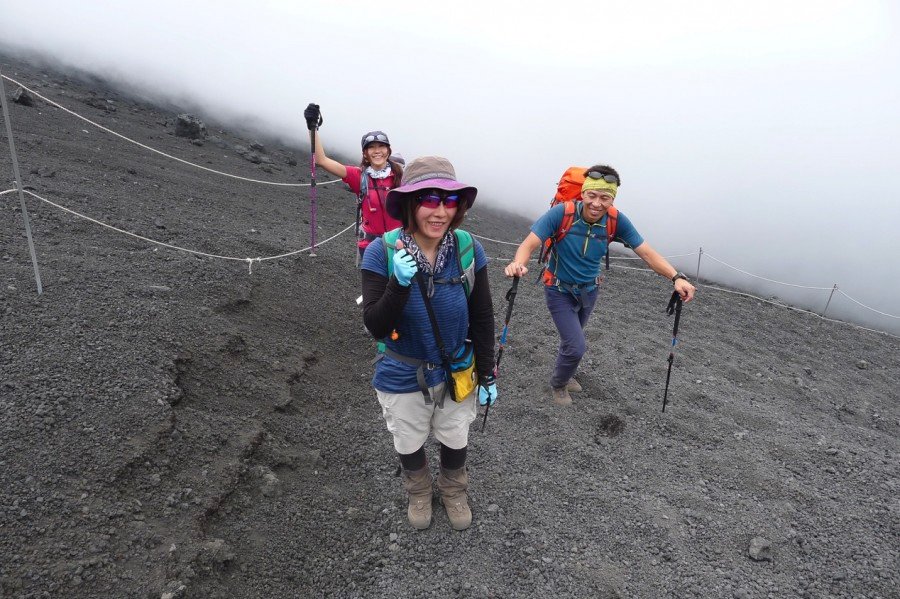 Lots of one step up, two down.
Our local expert, Atsushi, chose the relatively quiet 'Princes Route' so it was not until we reached the crater rim that I was exposed to the full force of Fuji crowds. This was a new mountain experience for me. I shunned the possibility of sending a post card from the summit post office and joined the queue to reach the highest point. The scene reminded me a little of photos I have seen of the Hillary step queue on Everest.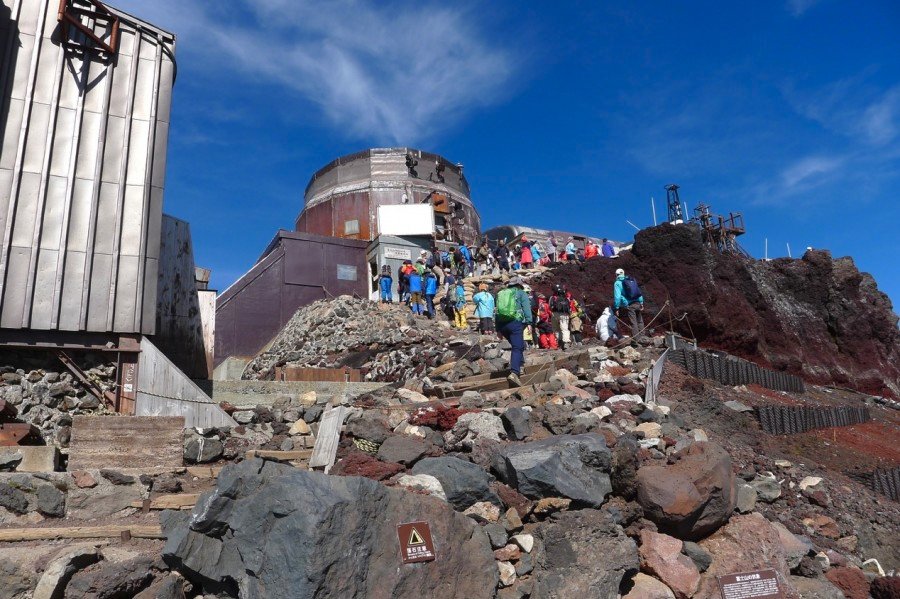 Summit queue
A circuit of the crater rim appeared to be obligatory. Atsushi had been a guide and told me of a client who climbed in the European alps every June/July and employed him every May to guide him up and around the crater rim three times for acclimatisation purposes. I was relieved that one circuit was felt to be sufficient for us but a very interesting circuit it was.
Having side stepped a variety of caterpillar-tracked vehicles I was surprised to find a row of shops selling summit souvenirs and even more surprised to see a Berghaus flag and find that one of them housed a Berghaus sponsored photographer, Daisuke Koiwai.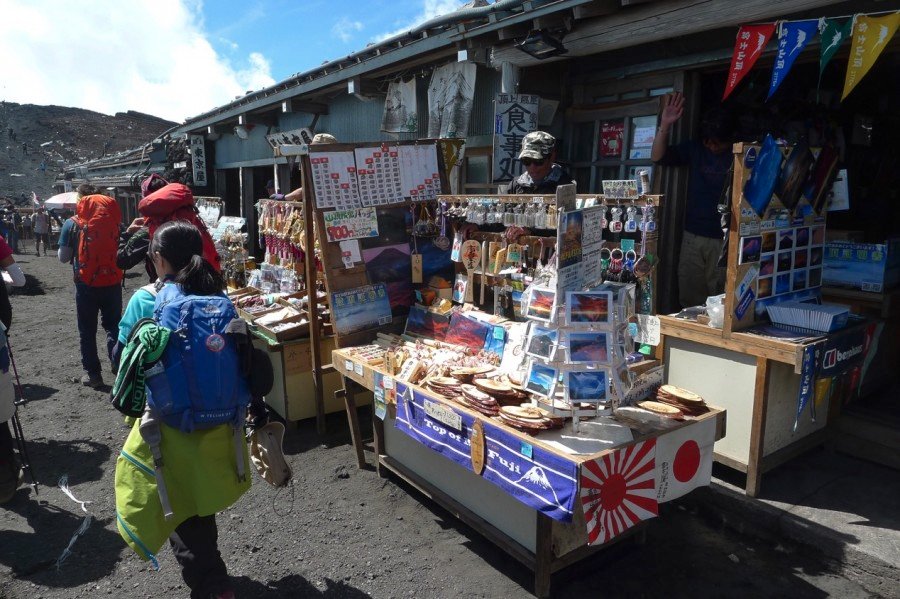 Summit shopping mall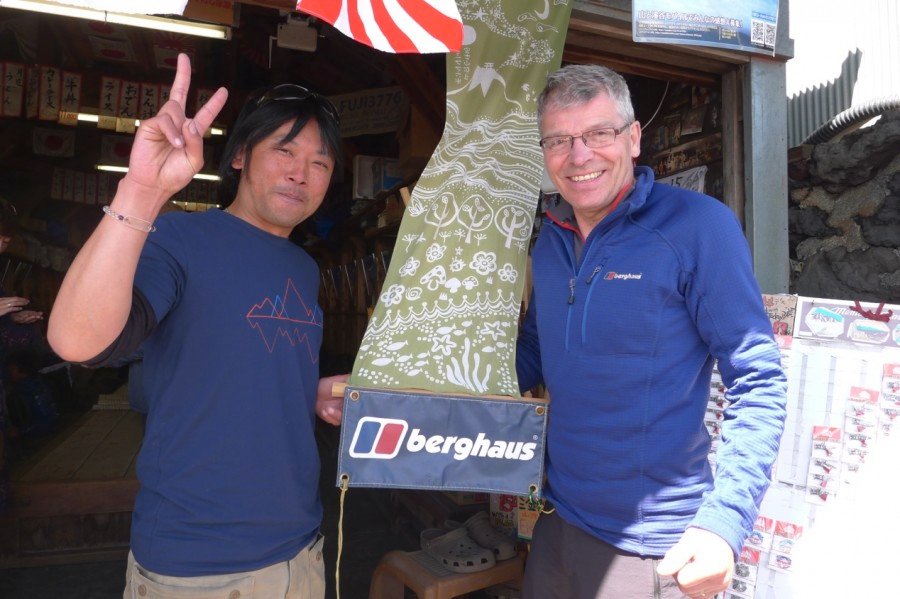 With Daisuke Koiwai, Berghaus sponsored photographer, outside his crater rim shop.
It was good to feel the thin air in my lungs as we passed the long toilet queue at the top of the most frequented route, marvelled at the crater itself and ran down the never ending fine and dusty scree to the thick air below.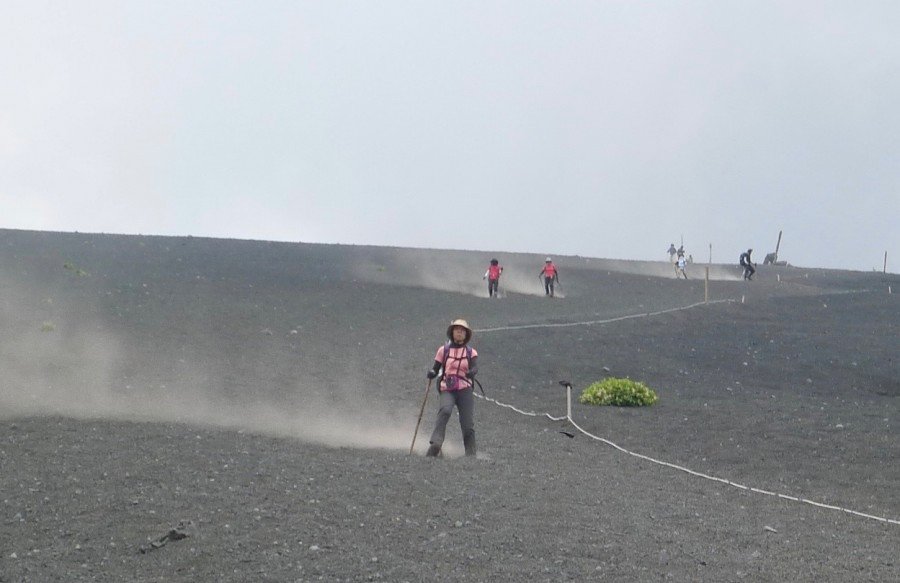 Dusty scree running forever……
A fine couple of days, memorable experiences with the fine folk from Kojitusanso and a small step in getting myself on par with Victor in the acclimatisation process.
Less than a month to go now and it's Himalayas time. Yayy!