My heros
Date = 15/12/2017
Day 25 (Expedition), Day 31 (Antarctica)
Location = Scott Glacier/ Robison glacier
Temperature = -15C
Wind speed / direction = 5 – 20knot, South, sunny Windchill = -27C
Distance travelled = 18.2km Distance remaining = 1394km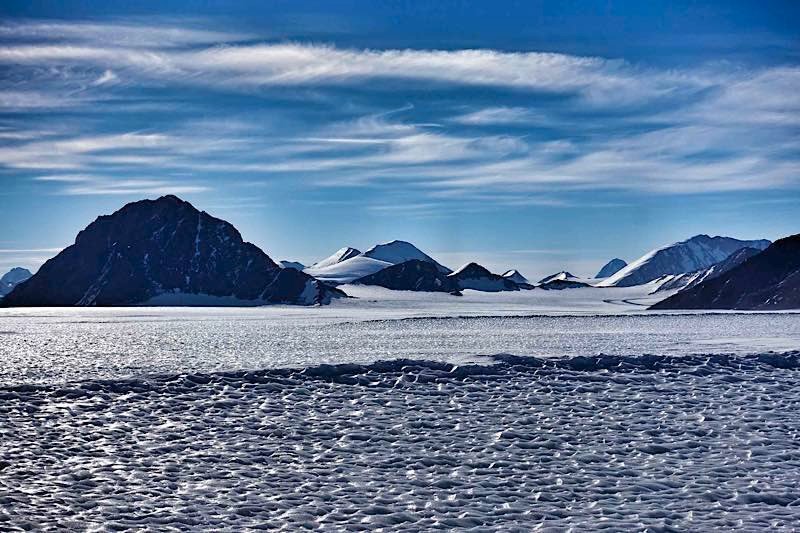 It was much less windy this morning and remarkably pleasant in the tent. We packed up camp in a reasonably efficient 2 hours. It takes ages to melt snow for hot drinks, porridge type breakfasts and to fill all our flasks and water bottles for the day.
We started on decent terrain on skis and after 3 hours switched to crampons to walk on the ridiculously slippery blue ice. The good thing is that the heavy pulks glide easily over the ice, much more so than even hard snow.
The bad thing was as more and more larger crevasses blocked our way, we had to cross more and more scary snow bridges, and zig zag around the weak ones.
We are roped together in case we fall into a crevasse but it means we can't stop even for a second without yelling and stopping the others. With so many layers of clothes, climbing harness plus crevasse rescue kit, pulk harness, pockets full of cameras, GPS, goggles and gloves it is all very claustrophobic.
If you are very military about the operation, and nobody messes around, it is possible to slowly chip away at great distances.
Today we did 18.2km, half of which was technical terrain in 10 hours. We are now at the head of the Scott Glacier and by tomorrow night should be well onto the Robison Glacier. We are making progress, slow and hard as it maybe, in the right direction. We are working well as a team and just about smiling through all the challenges.
We a hoping after another day or two on hauling, the terrain may allow us to kite upwind for some distance. It may not, and upwind, with a heavy load, is a real challenge and might not be much quicker than walking, but it's more fun and less tiring, so if we get the chance we will give it a go.
***********************************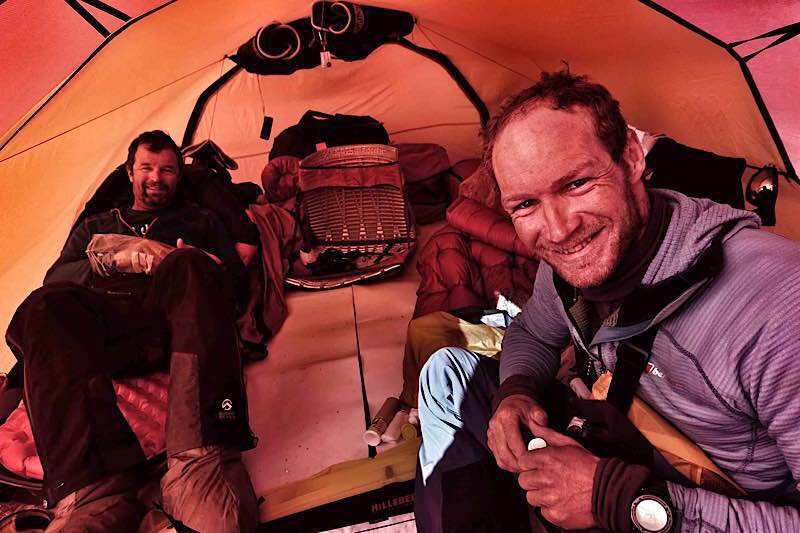 Our sleeping arrangement consists of one and a half extra thick closed cell foam pads, the half converts into a seat, with a really comfortable Sea to Summit insulated, inflatable mattress. We have extremely warm Berghaus down sleeping bags that are very roomy to allow for all kinds of stuff inside such as boot liners, gloves, camera, batteries. We also have fleece liners which can be used with the sleeping bag on really cold nights or more recently instead of the sleeping bag as it is surprisingly warm in the tent when the sun is out. Our down jackets are stuffed into pillowcases to finish off our wonderfully cozy nests! When we are on the move, all this is zipped into a long, flat bedding bag that fits nicely along the whole top of the pulk. It's a great system to quickly organise everything and pack / unpack camp. All we have to bring in each night is the bedding bag and a small 40l personal bag.
Bye bye Scott, hello plateau
Date = 16/12/2017
Day 26 (Expedition), Day 32 (Antarctica)
Location = Scott Glacier
Temperature = -15C
Wind speed / direction = 15-20 knot, South, sunny
Windchill = -27C
Distance travelled = 8km Distance remaining = 1404km
We won't be mentioning km in tonight's report. What we will focus on is the fact that the heavily crevassed and complex Scott Glacier is finally behind us. Grizzly peak is still visible in the distance but we are back at the toe of the Robison Glacier and far kinder terrain lies ahead, for a while.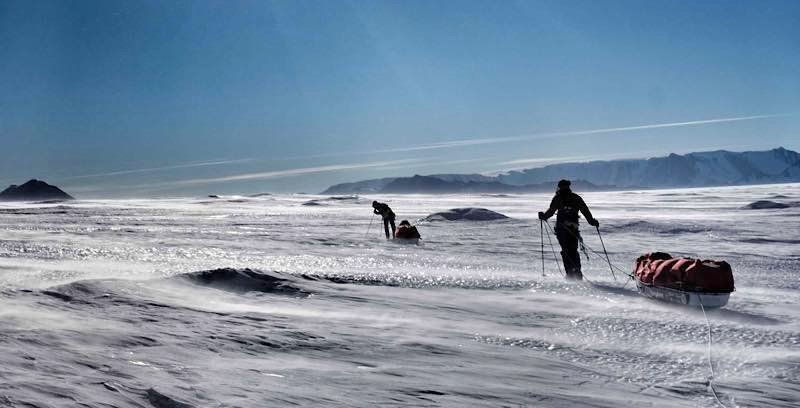 Today was another battle against the wind and ice. Jean did a great job of navigating our way out of the hazardous Labyrinth. We must've covered at least 50% more kms than our straight line distance over the last four days due to the constantly changing, complex and heavily crevassed Scott Glacier.
Tomorrow if conditions allow we will attempt to kite into wind, up the good terrain of the Robison Glacier that lies ahead. Upwind kiting is far more difficult than downwind, especially with heavy loads. Depending on the surface and the weight of the load there comes a point when it is no longer possible. But with this surface and around 100kgs each we're hoping it'll work. We will have to make lots of tacks, zig zags at a shallow angle into the wind. You must be careful on the turns, slowly bringing the kite high to a complete stop, step your skis over the trace attached to your pulk, then gently drop the kite back into the wind and as the power comes, aggressively hold the edge of your ski against it, to cut a tack into wind. It's powerful and tiring and we'll probably be looking at a total distance travelled to straight line distance ration of 4:1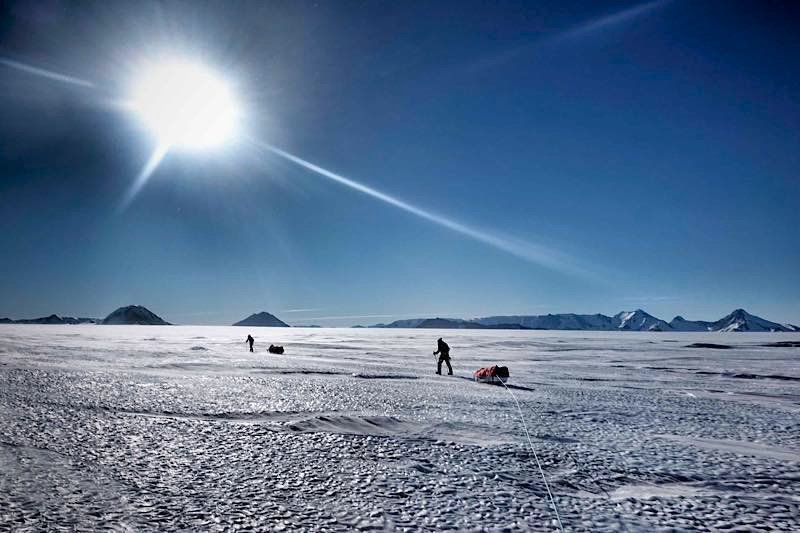 But hopefully it will still be quicker and certainly more fun than the torturous pace of man-hauling. If it doesn't work we'll revert back to walking which should be far less work over gentler terrain. We have enough time and supplies to get to our Depots one way or another. If kiting works well we could be doubling our distances or more. We live in hope.
After the Robison we will continue East for 60km across the California Plateau via a different route to our approach. Again if the wind allows we are hoping to kite this across to the South Pole traverse road which we will then follow, most likely man-hauling 50km to our depot B and then 120km further to Depot A. Then the 1100km downwind kite journey from Depot A back to Union Glacier; a kind of expedition in its own right.
Our first goal is the top of the Robison, hopefully by technical kiting.
Then we are praying for some California dreaming across the plateau. When we reach the 'road' we will probably have to get our march back on, but once again it's all down to the wind. It dictates everything with wild extreme; from how well you sleep, to how cold/hot you are, whether you travel 0km or 200km, or are in heaven or hell. The wind decides and she's a wild one!
A fine fare well to the trans Antarctic!
Date = 17/12/2017
Day 27 (Expedition), Day 33 (Antarctica)
Location = California Plateau
Temperature = -15C
Wind speed / direction = 0-18 knot, South, sunny
Windchill = -20C
Distance travelled = 36km Distance remaining = 1368km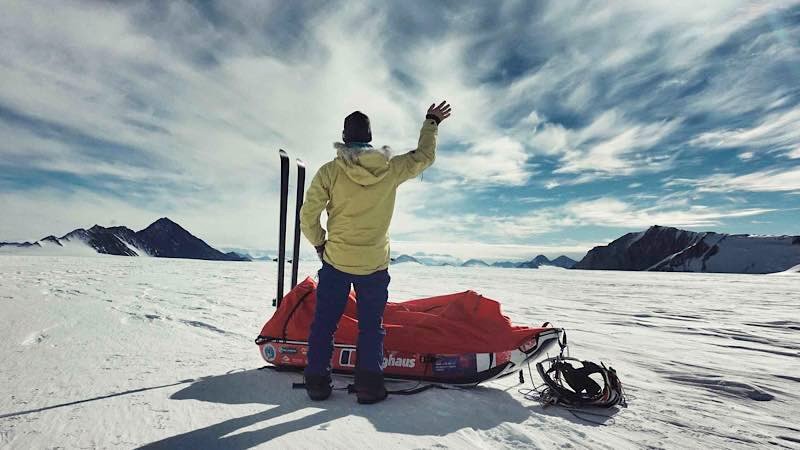 Before I begin – today I saw a bird! I think it was a juvenile Albatross. It came quite close, checking out our kites. The others didn't see it. I saw a butterfly above 8000m on Everest, a tiny little bird in the door of my tent in a blizzard on the Greenland icecap, a snow petrel on the summit of Ulvetanna and now a huge bird at 86 degrees south, 500miles from the ocean.
I take them all as good omens!
Yeah! It worked! An exhausting, but exhilarating day of aggressive upwind kiting. We started in light wind on our biggest 15m2 kites. Immediately it became apparent that it was going to work and work well. Good visibility, open terrain, a hard ice surface, GS race skis and high aspect ratio performance kites came together for a full value day of high octane Antarctic adventure.
Upwind kiting is strange balance of delicacy and aggression.
You can literally feel the point at which all the sophisticated equipment and skills come together and you hit the perfect angle of attack into wind.
A subtle balance between your body weight, the edges of the skis, their direction and the kites power controlled by gentle but strong arm movements on the control bar.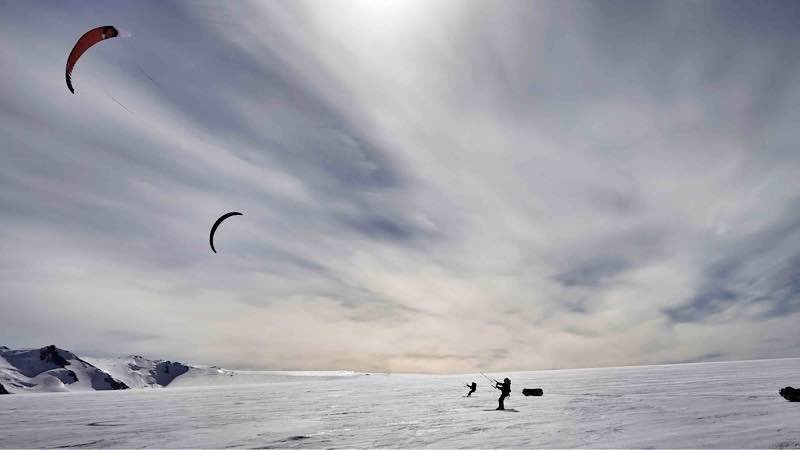 It's a full on workout for the quads and the arms to hold a line into the wind, but exhilarating and fast. The loads were hardly noticeable apart from the gut wrenching initial jerk when changing direction on a tack.
The wind strengthened and we soon became overpowered, switching directly to our smallest 9m2. For all the troubles we had with those frisky little beasts on the way in, they really came into their element today for tacking up wind, cutting smoothly across the sky.
We covered 113km of ground and a point to point distance of 36 km. Almost a
3:1 ratio which is fantastic.
We zigged and zagged our way all the way up the Robison glacier and significantly out of the Trans-Antarctic mountains until the wind dropped.
We are now camped in glorious sunshine with not a breath of wind, 20km below the Graves Nunatuks where just a couple of weeks ago we were pinned in a storm on our entry into this most inaccessible of mountain ranges.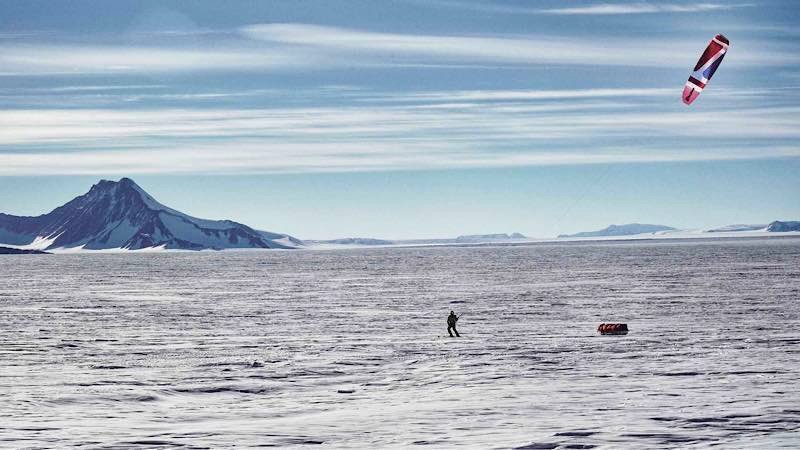 It has been a privilege and an honour to have travelled and climbed in this desperately remote range and to have behold The Spectre. The hidden jewel of this spectacular region, buried deep and guarded fiercely, as perfect a peak as there ever could be.
Our dream to see this place and climb the Spectre became reality, and it is now behind us. We are about to say goodbye to the Trans-Antarctic mountains for good, as we return to the deep freeze of the high plateau.
No more sublime mountain views as we enter the endless white desert. We are optimistic about kiting the next 50kms. We have the best surface possible, perfect sun, just lacking one key ingredient…
This is the calmest it has been the whole trip. It is so silent, so peaceful, so beautiful.
With a 10 knot southerly wind we can cross the California plateau in a few hours. Or it's 3 hard days of walking. We will enjoy this splendid spot and wait for wind.
There is a long journey ahead, but our time here in this other world is so limited. We must savour all the amplified experiences and emotions, as soon this will all be a memory. Though one, we will not likely soon forget!
Becalmed
Date = 19/12/2017
Day 29 (Expedition), Day 35(Antarctica)
Location =California Plateau Coordinates – 86° 35.846'S, 143° 29.197'W Altitude = 2072m
Temperature = -15C
Wind speed / direction = 0-5, South, foggy clearing to sunny Windchill = -10C
Windchill = -27C
Distance travelled = 0km Distance remaining= 1367km
Thanks to all you twitchers out there following on social media for the bird identification. Uncle Ed, Mika and Sue agree it is a Southern Polar Skua.
And BTW Uncle Ed – respect on first ascent of Spectre! and GrizzlyPeaks!
Incredible ascents.
Since our mega upwind session 2 days ago, we have been truly becalmed.
Yesterday after a lie in we enthusiastically attempted to tack upwind with the gentlest breeze on our biggest kites. We covered 1.5km after almost an hour before accepting it was futile because we were so underpowered. We could've walked all afternoon and today to cover 30km but instead we cooked bacon and eggs and have enjoyed relaxing and resting for a while. Still on the doorstep of the Trans-Antarctic mountains and the edge of the plateau.
It is so much nicer out here when it's calm and sunny!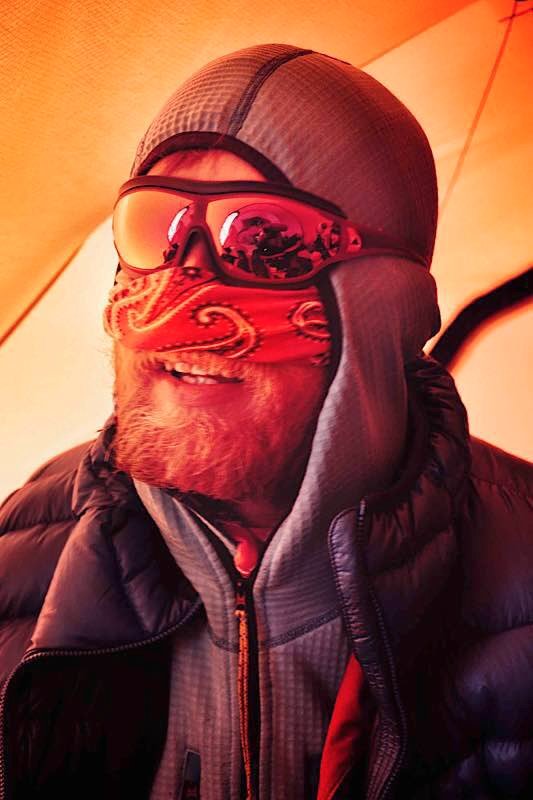 We spent some time accurately plotting our new return route from GPS coordinates on to our rudimentary maps, not a simple task but it has given us more confidence in our plan.
It looks like tomorrow our old friend the wind will return. If southerly, with a bit of luck, it could enable us to cross the California plateau to the South Pole traverse 'road' in a few hours, covering more distance than we would've walked in two hard days. With a bit more luck, the predicated swing to an easterly wind might even allow us to continue kiting south towards our depots.
Tomorrow is the official halfway point of the expedition in terms of days.
It is daunting to think we have so far ahead, but rewarding to know how far we have come.
We are all in good shape considering what we've been through, and are ready to face the next set of challenges. Equipment is currently all holding up well, and we have a comfortable 12 days of supplies. (Touch wood)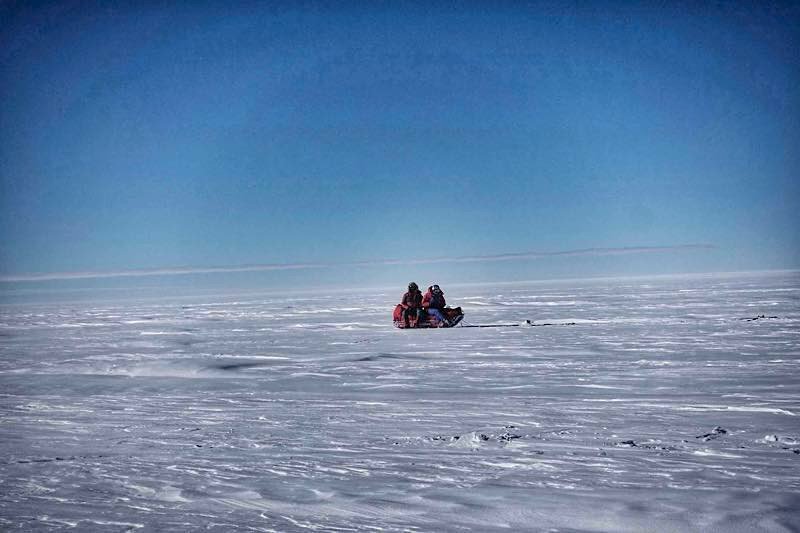 I do seem to have caught a bit of a frostnip on my nose that must've been during the cold up-winder, which is a concern for the cold days ahead, but I have other face protection options and will get the boys to keep a close eye on it. Mark has repeatedly offered the use of various parts of his body to the rewarm the affected area. None of which sound too appealing, so I politely declined.
It seems for a while we are settled into expedition life and optimistic about the next few days travel.
No doubt very soon a new obstacle will stand in our paths, delaying our progress and testing our resolve, but when it comes we will be ready, and one way or another make our way home over the next 35 days.
That bird is the only other living thing we have seen for weeks. It's wild to think we may not see anything else for another month!
Such a privilege to be here.
Polar vagabonds, just like a park bench
Date = 20/12/2017
Day 30 (Expedition), Day 36(Antarctica)
Location =circa Tango 3, South Pole traverse Coordinates – S86 37.319', W136 43.143' Altitude = 2343m
Temperature = -24C
Wind speed / direction = 10 – 20knot ESE, sunny
Distance travelled = 46km (117km total tacked up wind) Distance remaining = 1321km
Polar vagabonds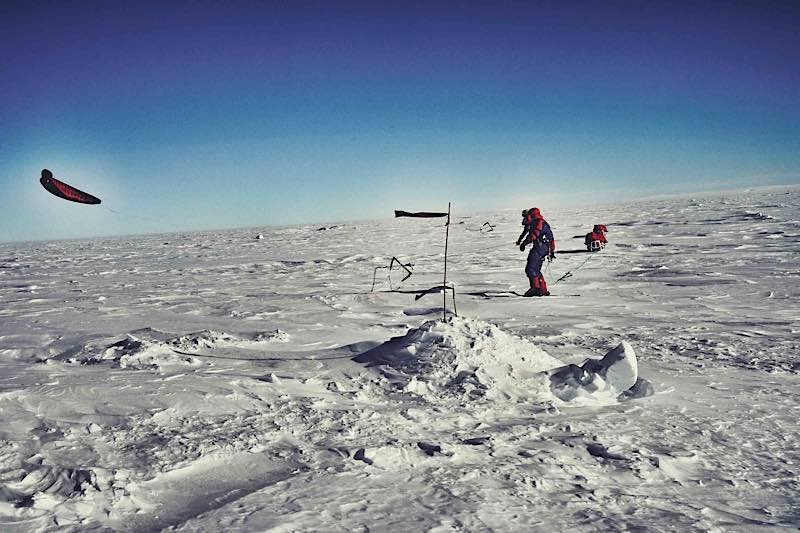 A full on day of upwind kiting across the California plateau. We covered a point to point distance of 46km, and total tack distance of 117km. Strong wind and blue ice pushed us hard, but we fought back with our weapons of choice, high aspect ratio performance kites and World Cup giant slalom race skis. I don't think what we did today would have possible with any other set up. Even with the razor edges and incredible stiffness of the skis, it was impossible to hold an edge on the ice and we pushed the kites to their limit aggressively cutting into wind for almost 10 hours. We used all three sizes of kites (15m, 12m, 9m) through wind from 8 to 20+ knots.
It feels good to be pushing some 'nuskool' kiting down here in the midst of an expedition. We are now 35km from our first depot, the next 120km further, due south. With perfect wind we could do that in a day! Walking it'll take 10. Realistically we hope to try to snatch at least a couple more upwind sessions but are resided to more walking sooner or later.
We are tired but happy. We have become a tight little unit by now. Unphased by conditions and terrain that would have freaked us out a month ago. We are polar vagabonds with everything we need to survive and thrive out here for another month! It's pretty incredible to be so far from everybody else on planet Earth, and so totally self-sufficient. And so utterly dependent on the mood swings of Antarctic winds…
Must rest…
Solstice delight!
Date = 21/12/2017
Day 32 (Expedition) Day 37 (Antarctica)
Location =30km before Depot B. Coordinates – S87 42.730', W132 00.399 Altitude = 2824m
Temperature = -24C
Wind speed / direction = 10 – 28 knot E, sunny / low cloud
Distance travelled = 125km (117km total tacked up wind) Distance remaining = 1196km
Solstice delight!
What a difference a day makes! What a way to celebrate the summer / winter solstice. An unusual easterly wind combined with a freshly groomed road just delivered us an early Christmas and may well have cut 10 days off the journey?
We started kiting across country for 36km on a slight upwind tack. There were some challenging sastrugi patches but we powered through them at pace, with good visibly.
We made it to our day's target, depot B by the road in around 4 hours with tired right legs from holding one tack into wind the whole way.
Clearly another fuel convoy has been through recently, as the road looked like freshly groomed ski resort piste. The wind was coming almost perpendicular at 15knots, perfect for our heading. We almost daren't say anything, as it was too good to be true.
120km to the next depot. With bated breath we launched and began kiting along the road. Fully powered, we were soon covering 25km an hour across the freezing desert on a soft, smooth surface. Totally surreal to be moving like that; watching your friends leaning hard against their kites, almost flying for great distance with a heavy, but obedient pulk rocketing along behind.
We saw a storm ahead, and without pause, shot into the strong winds and flat light confident in the surface and navigation and keen to seize every hour of high speed travel.
We could just about see each other; the wind was pushing 28knots riding our 12m kites, but our slight into wind tack kept us in the controlled, if super over powered, zone.
It was beyond words and we covered 90km down the road in 5 hours.
Eventually our right knees started to give way, having held the same edge for 9 hours, and we decided to call it before somebody blew something. We are 30km from depot A, the end of the 'man-haul' leg of the expedition. It seems surreal that just yesterday morning we were potentially facing 2 gruelling weeks of man-hauling to reach depot A.
On the luck of the wind; a properly equipped, well skilled kite crew, has completed it in 2 days! Hell yeah! Get in!!!!
We do have another 30km to go, which could be 2 days of walking in bad conditions or a mellow morning with the forecast wind?
So perhaps tomorrow we begin the fourth and final stage of our expedition, the 1100km downwind kite journey back to Union glacier. The catch with today's glory is of course that the next leg relies upon the common Southerly trade winds and will be impossible with the current wind pattern.
So we will collect our Christmas supplies from depot A and celebrate in a few days like everybody else. Hopefully the Southerly will be back sooner or later?
Feels great to have finally drawn a lucky hand. What will happen next? Will we be celebrating in Union in two weeks' time? Or will it cycle from storm to doldrums and we'll still be here? Stay tuned…
[Leo]