Racing against the lock-down clock to return home to the UK, Berghaus athlete Anna Taylor retraces her tracks through Costa Rica and reflects on better times ahead.
"In March of this year I flew across the Atlantic to Costa-Rica, where I met up with local climber Gino Negrini, who had invited me over to climb a mountain in the centre of the country called the Cerro Dragon. As everyone is well aware, the COVID-19 virus has recently brought the world to a standstill, and unfortunately our plans to climb the Dragon were derailed, and my time in the country cut short.
I'm not complaining, as there are far worse things going on at the moment than climbing trips being cancelled, and I did get to enjoy a great two weeks before making an early retreat back to the UK. While I don't have any Roraima-esque stories of adventure to tell this time round, I did get to explore some beautiful parts of Costa-Rica that are far from the usual tourist trails, and have written a short blog about it below that might be of some insight for anyone wanting to visit the country in the future. Enjoy!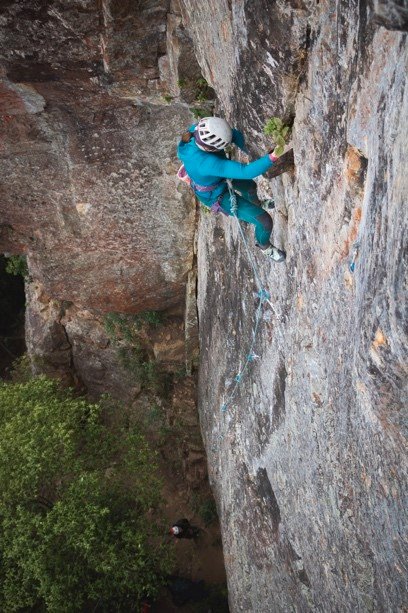 I arrived in Costa Rica late in the evening of the 12th March, and after meeting Gino at the airport, we picked up his friend Juan and headed straight out to the mountainside of Pico Blanco, a series of high rocky towers around 40 a minute drive from San-Jose. The hike up to the crags from the road is fairly arduous, and combined with the sleep deprivation I was experiencing from travelling through time zones, I was delighted to finally be able to get into my sleeping bag after around 30 hours on the go. We had an amazing night sleeping out under the stars at the foot of the crags, drinking wine from camping mugs, and discussing the climbing scenes of our respective countries – rock climbing is still a relatively new sport in Costa-Rica, with none of the extensive history of the British climbing scene.
The next day was spent sport climbing on the towers of Pico Blanco. It's a funny place. The steep, uneven ground and rainforest surroundings make the area feel wild and remote, but if you look behind you the sprawling expanse of San Jose isn't far away. We warmed up on one of the classic routes of the crag, a long and easy crackline that leads up around forty metres to a lower off. It's all bolted, but would also make a fantastic trad climb, and was of similar quality to routes like Left Wall on Dinas Cromlech. In the afternoon we tried some projects, including one hilarious climb that involved stepping onto a Bromeliad covered ledge halfway up the crag, and wriggling back off it again onto a nearly horizontal roof. It perhaps wasn't the highest quality route there but watching everyone grappling with the vegetation was pretty funny.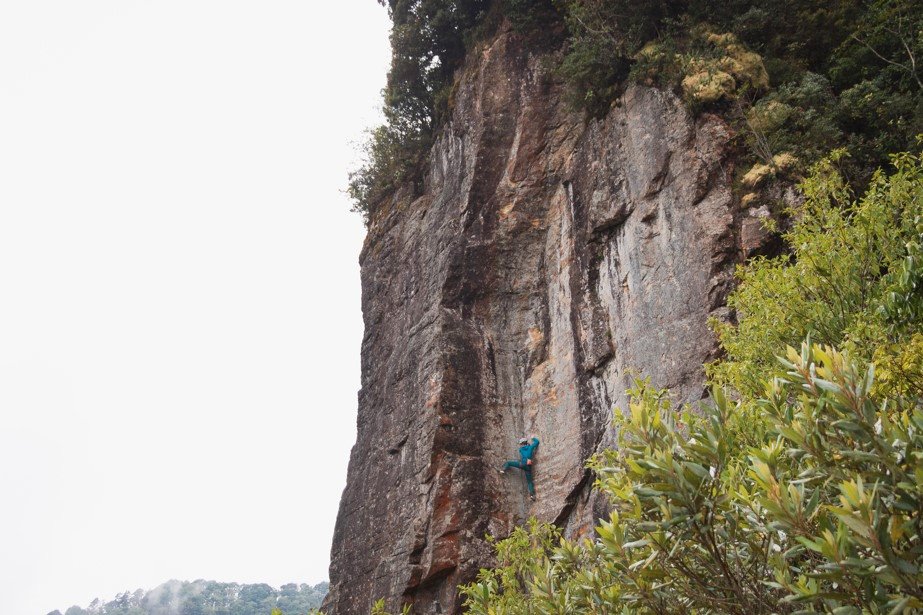 In the evening we returned to the city, and I got my first look at San-Jose in the daylight. It's a strange city. Large gated communities full of mansion houses are juxtapositioned right next to poor areas that are bordering on poverty. Costa-Rica is popular with tourists, but as we spent little to no time near the coast and the surfing hotspots, I didn't see anyone non-local for the remainder of my trip.
We planned to go for the Dragon at the end of the week, so had a few days spare to explore the country first. We decided to head North and began with a bouldering area high on a mountain called Cerro la Muerte, so Gino and I picked up Juan and his girlfriend Camila, and we drove off into the mountains. Along the way we passed many roadside stalls selling every kind of fruit imaginable, and as we drove up the long, winding roads out of San Jose, the climate began to change dramatically. The sticky, humid air became cool and misty, and the yellowed vegetation of the dry season turned into dense, wet jungle.
After a couple of hours, we arrived at the top of Cerro la Muerte, a barren and somewhat featureless summit shrouded in cloud with only a few large, sand coloured boulders visible. The mountain's altitude is significantly higher than that of the city, and this was immediately felt by everyone as we began climbing. The bouldering was of good quality, on grippy and well featured rock, but we were all left gasping for air after even the smallest struggle, and just walking around between the boulders themselves seemed tiring. We were quickly losing the light so packed our stuff, but before we left, I noticed many high, unclimbed boulders and walls up to around 12 metres, that looked absolutely perfect for the sort of highball/headpoint routes that I often enjoy. The altitude would obviously make bold climbs trickier, but the potential was certainly there for some good first ascents. We planned to spend the night at a place called Providencia, where we would hopefully get chance to do some tree climbing in the forest, and after another long drive from Cerro la Muerte, we arrived late at night.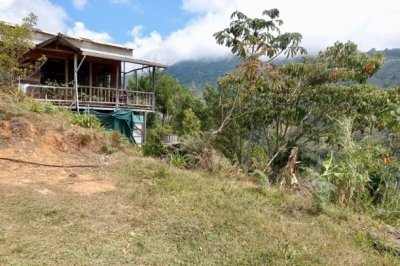 Providencia is a tiny farming village deep in the Costa-Rican rainforests. Accessing it involves driving for a couple of hours from the main highway, down an increasingly steep and treacherous dirt road (4 by 4 essential) into a deep valley surrounded by thick jungle. At the very end of the road there is a small ranch, run by a family called the Mora's, who live there and farm coffee and bananas on the steep slopes below. They're a wonderful family, incredibly kind and hospitable, and the four of us rented out a small wooden bunkhouse from them for a few days whilst we climbed in the surrounding areas. Every morning and evening we would eat with the Mora's in the main ranch and were fed traditional Costa-Rican food that was all made entirely out of produce from the farm. Plantain, mango's, papaya's, and various other fruits and vegetables were all grown on-site, eggs came from the hens, and the coffee was unlimited. The buildings were all wooden and had been made by the family themselves over several generations. I was amazed at how self-sufficient these guys were, living in this little bubble far away from the chaos of San Jose, and really not in need of anything from the outside world. I was reminded strongly of the time I'd spent with the Amer-Indians in Guyana the previous November. Providencia was not as remote as the village of Phillipai had been, but it reminded me in the same way of how beautiful such a simple life can be.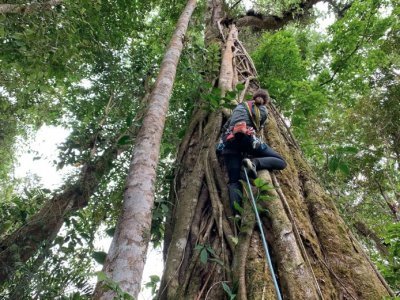 On our first morning in Providencia, Gino and I went off into the jungle in search of some trees to climb. We were looking for strangler figs, plants of many intertwining branches that latch onto a host tree and create natural climbing frames up their trunks that can be used for both holds, and protection. I had of course, climbed a fair few trees in my time, but I'd never approached one this way, setting off with a rope and a rack as if for a rock climb. I realised quickly that the style of climbing on the strangler figs is more like crack climbing than anything else. Instead of using my toes to stand on tiny edges, I was jamming my whole foot into the spaces between the roots and curling my arms around vines instead of crimping. Protection was gained by wrapping slings around v-shapes in the branches, and the whole process was a lot more physically demanding than I'd expected.
I arrived in the canopy pumped and covered in insect bites, but I'd certainly enjoyed the climb. It was quite something to be up there, thirty metres high in a tree top nest, on the same level as the curious birds and monkeys that were eying us with suspicion. I belayed Gino up to join me, and he decided to continue and lead out from the canopy onto the end of a long branch where he found a good belay. I was a little apprehensive about this. The branch was thick and wide, but Gino was a long way out, and I couldn't help but wonder whether the leverage created by the weight of two humans on its far end may prove too much for it. I cautiously made my way onto the branch, and after a bit of shuffling joined Gino on its far end. As we sat there and stared around at the view, feeling like a pair of over-sized monkeys, the branch creaked ominously, and we quickly made plans for retreat. Gino had a good belay, so lowered me straight of the end of the branch to the ground. It was pretty cool to descend through free space in the middle of the jungle, miles out from any of the trees with a great 360 view of the surroundings.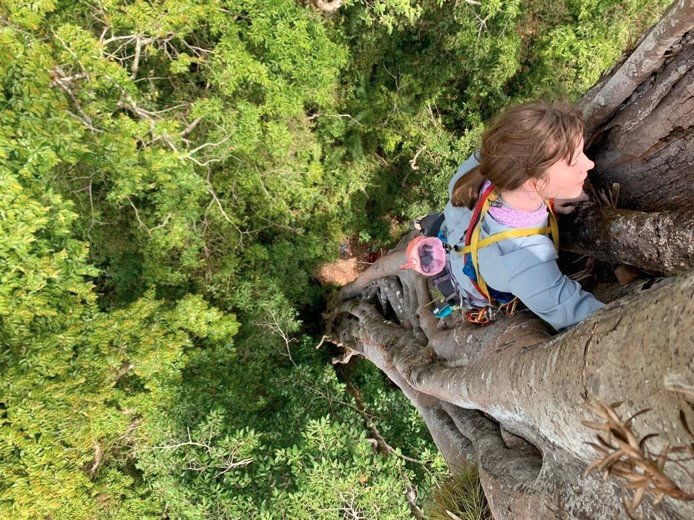 Once Gino was down we packed up and headed back to the farm, and spent the afternoon bouldering with Juan and Camila on some huge glaciated boulders sat by a stunning river a few minutes from the ranch. We stayed in Providencia for a few days, happily oblivious to the outside world, but upon returning to the city we noticed how dramatically things were changing, and were given the bad news that we no longer had permission to be on the land containing the Cerro Dragon, as the locals feared outsiders coming in and bringing the virus with them.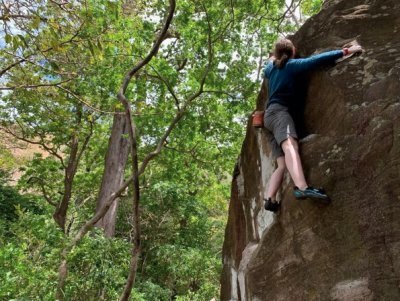 The last few days of the trip were spent at an area called Lebano. It was around a three-hour drive from the city, south this time, and along the way we passed alongside beautiful deserted beaches, and saw howler monkeys playing in the trees that bordered the road. The land became much flatter, with large pastures full of cattle, and once the wind dropped the heat in these exposed stretches of land was intense. We arrived at our destination in the early evening. Beside a large lake that lies in the shadow of an active volcano, a small community live in several old shipping containers they've converted into homes. They're basic, but have all the necessities, and are surrounded by jungle and a huge diversity of wildlife. A friend of Gino's lives there, and the next day we joined him in exploring a new area of bouldering he was developing down in a rocky creek a few minutes from the village. The approach was short, but once again after only a few minutes of walking all signs of people disappeared, and as we scrambled our way up the dry riverbed several promising looking boulders came into view. We quickly found a large, mushroom shaped one to focus our efforts on, and after a couple of hours of scrubbing and chalking, we had around five new problems of decent quality. On one side there were a couple of short one-move-wonders, but the other offered a few slightly higher options, and some good link-ups could be made from a long diagonal ramp feature.
We later noticed that a small tree beside the boulder bore long scratch marks that were unmistakably the work of a large cat. Sure enough, when we checked a small cave on the far side of the boulder, we also found hair and droppings that most likely belonged to a Puma. I wondered if there were a curious pair of eyes watching us from any of the nearby trees and kept a careful eye on the surrounding bushes as we made our way back down a couple of hours later.
We kept up to date with the COVID-19 situation whilst we were away from the city, and after a few days in Lebano we decided to return to I could try and get back to the UK early, as things were beginning to look very serious. The next few days were an unpleasant cycle of booking flights, having them cancelled, and being turned away at the airport for various reasons. Since I had been in both the UK and France in the previous three weeks, I wasn't allowed to transfer in the US, but after many arguments with the airport staff that culminated in a phone call to the Canadian government, I eventually managed to get on an emergency flight to Toronto that would connect me to London. This turned out to be the very last commercial flight operated before the airport shut the next day, so my persistence certainly paid off. The layover in Canada was 24 hours, and the huge international airport was like a ghost town, with only a handful of people around me in the arrivals lounge. The huge Boeing 777 that was my ride back to London must only have had 20 people onboard, and I arrived in the early hours of the morning to find the familiar city almost deserted. It was all very strange…
Getting back home was fantastic. The constant drip-feed of bad news coming out of the radio every hour was fairly depressing, but for me it was totally over-shadowed by the sheer relief of making it back just in time. Costa-Rica would not have been the worst place to end up stuck, and I had some great friends there, but being confined to a foreign city on the other side of the world where I knew three people and couldn't speak the language would not have been ideal whilst the world was in such a crisis, and I was certainly happy to be back in the familiar surroundings of the Lake District.
Looking back, I perhaps shouldn't have left the UK in the first place, but I don't think anyone could have foreseen the seriousness of the current situation. Whilst my time in Costa-Rica didn't go exactly as I'd hoped, I don't regret it at all, and would absolutely return one day, perhaps bringing my weird British head-pointing ethics with me! If you're looking purely for a world class climbing destination, Costa-Rica probably isn't it, but if you want to spend time travelling around an incredibly beautiful and varied country, and do some cool climbing along the way, then it's a pretty good choice. One thing I do know about climbing trips is that they very rarely go to plan, and while the objective of climbing the Cerro Dragon didn't even get off the ground (literally) getting to experience the culture of another far-away part of the world was great. Now the virus has become so widespread, this trip will probably be my last for a good while, so I'm happy to have ended things on a good note. Hopefully in a few months some normality will resume, but until then it's time for training indoors and reflecting on better times. Stay safe and keep sane everyone!"
Anna.